Calisson wrote:

Among the first conclusions drawn from early batreps was the necessity to limit charges to one per turn, because of the alternance in melee.
Do you have a comment on this tactical aspect?
I think it depends on how your battle is arrayed. For example, suppose it's your initiative (I'm red, you're blue). Sorry about the pictures, Photoshop hates me! Anyway, you charge my line with a heavy-hitter:
Your unit hits first, then mine, but by maintaining an orderly battle-line, I have
another
unit that piles in:
That is bad for you. The blue unit is encircled and has to divide their attacks. Then it's my turn, and I move to block your way so that you can't come to their help and they remain isolated:
So in this case, making only one unsupported charge against an orderly battle-line was a bad idea. On the other hand, suppose you do this:
You have to choose whether to hit first with A or B. One of them has to take a beating before they can deal one out. B is protecting A, but at the cost of having to anchor that flank. You could decide to hit first with B to make it a little easier on them, or maybe A are your heavy-hitters and B have to 'tank'. In that case, it would be best for 'B' to have lots of bodies and for 'A' to have lots of attacks.
Another option might be this: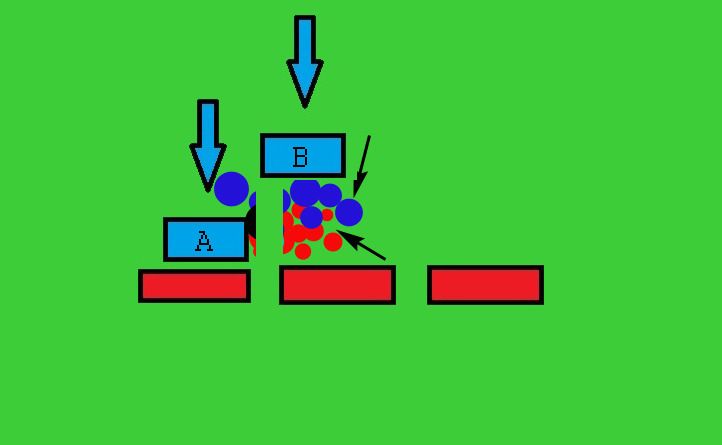 You charge with 'A', and do not charge with 'B', but move up close behind in support. 'A' hits first, then red, then IF Red piles into the combat, 'B' can pile in too, and not have to take ANY blows in that turn.
Finally, what if you have some Witch Elves (for example) already fighting on your left flank? (Witch Elves in purple!)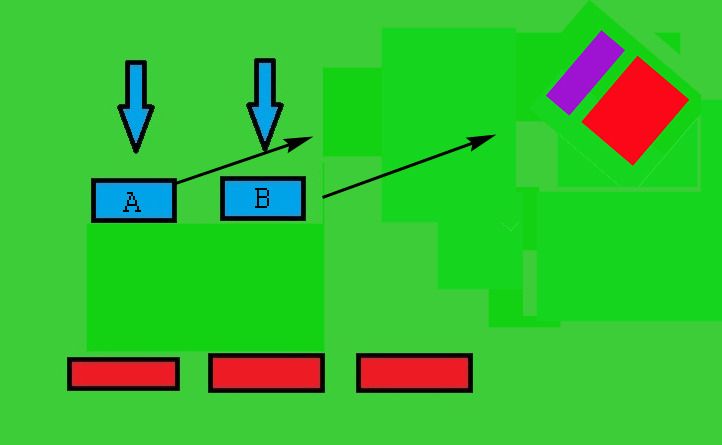 Witch Elves hit very hard, but have no save. If they don't hit first, they may lose and you'll have another red rectangle threatening you on that side. If you charge and you choose for the Witch Elves to go first, then the unit that you charged with is going to have to go second. In this case, maybe it's better not to charge at all and close the gap in your line instead (black arrows). If you position your troops carefully, it can be better to receive a charge than to make one.
So it really depends