---
D.net UB tournament, Game 2 - Watz with OnG

This is the second round of the D.net Universal Battles tournament. I made almost no changes in my roster, the only difference was that I moved the ironcurse icon from the lvl4 to the lvl1.

There was a different change, however, and a very important one: Rowena decided to improve my experience from playing and her and everyone else's from reading the reports and bought me the PRO account. The pictures looking far nicer than before are to her credit so many thanks to her!

Lost Colony:
prince on star dragon, general, heavy armour, shield, great weapon, star lance, dragonhelm, TOTS: 600
archmage on steed, lvl4 high, book of hoeth, ironcurse icon: 300

mage on steed, lvl1 high, dispel scroll: 120
noble on barded steed, BSB, BOTWD, heavy armour, shield, spear: 168
noble on barded steed, heavy armour, enchanted shield, ogre blade: 134

5 elyrian reavers, bow and spear, standard, musician: 115
5 silver helms, shields, champion, standard: 135
15 silver helms, shields, FCG: 375

3x bolt thrower: 3x 70
frost phoenix: 240
2x great eagle: 2x 50

What I realized just prior to the game, though: not only has my prince no ward save (this was an intentional risk), I actually left out golden crown as well. This made him more vulnerable than I have planned. I will have to find points for some more protection in the future battles I think.

Watz, my opponent, was fielding an army with many war machines and lore of undead, as in the first round.



Orcs and Goblins:


Lords:
Black Orc Waaaghboss on Boar, Shield, Trickster's Helmet, Dragonbane Gem, General
Goblin Great Shaman, Lvl4 Little Waaagh, on Arachnarok with spider shrine, Talisman of 4++, Ironcurse Token, Scepter of Stability

Heroes:
Black Orc Bigboss, Shield, Dragon Helmet, Battle Standard Bearer
Savage Orc Shaman, Lvl1 Undeath, Lucky Shrunken Head
Night Goblin Shaman, Lvl2 Undeath, Energy Stone
Night Goblin Shaman, Lvl2 Undeath, Dispel Scroll, Obsidian Trinket (MR1)
Night Goblin Shaman, Lvl1 Undeath
Night Goblin Shaman, Lvl1 Undeath

Core:
53x Goblins, Shields, bows, 3x Nasty Skulkers, Full command
29x Savage Orc Big'Uns, Additional hand weapons, Full command

Elite:
4x Spear Chukka

Rare:
1x Rock Lobba with Orc Bully
1x Rock Lobba
2x Doom Diver

This is not what I would prefer to play against. I have actually thought about leaving the bus and dragon home and going for a phoenix guard deathstar, PG and WL blocks or something. But then I decided that tailoring is not fair, and if this is a bad matchup, I should cope with it somehow.

There are several elements that make this army dangerous:
First and foremost, artillery. Doom divers inflict D6 S5 no armour hits with extreme accuracy so they can reduce my bus very fast. Perhaps more importantly, they can kill the small units very easily as well so if the small helms for example try to get past the infantry lines to the machines they will most likely not succeed. Catapults are a very good counter to the dragon and phoenix; they might not hit but if they do it can hurt. Last, spear chukkas are not too accurate and have no multishot option but they can still kill some helms and if lucky, even wound the big flyers. Their balistic skill is not great (they are BS3) but when there are four of them some are likely to hit.
Second, lore of undead. This thing is not that dangerous in the first turns – though a pack of wolves attacking the bolt throwers or a redirector summoned right in the way of the bus is never a good thing – but if enough spells went through, I could have easily seen terrorgheists roaming the field and this would have been bad. Under the rules pack used, summoned units were worth no victory points at all.
Third (or two and half or something), magical dominance. First, my opponent had six channels, and because of the arachnarok upgrade, all of them could be succeeding at 4+. That means three bonus dice every magic phase on average! Second, every time a spell from the goblin lore goes through the shaman steals a dispel die on 5+. The goblin spells are not that powerful but they can still hurt – there is a 2d6 or 3d6 S3 missile, a spell granting armour piercing, a spell making me reroll sixes, a spell reducing movement by d6, a spell granting poison attacks. Thanks to the spider, the great shaman is a loremaster. The spells are not game changing most of the time (though 50 goblins shooting poisoned arrows on my phoenix could well be) but they hurt.
In addition, the night goblin shamans add d6 to their casts for magical mushrooms which makes them almost as effective as if they were lvl4. Yes, if they roll a 1 for the mushroom they fail the spell and have a chance to get wounded but still.

Summed up, I was looking at getting shot at by two catapults and two doom divers (I can hide from spear chukkas but not from the rest), never knowing when a terrorgheist pays a visit. My ranged presence was far weaker: three bolt throwers with nothing really worth shooting at, soul quench (short ranged though) and fiery convocation. Therefore, I knew I had to push and I had to do it quickly. Otherwise, I would get shot down with no real way to retaliate other than fiery convocation which might not suffice.

So the plan was:
- deploy as much in cover as possible
- close in turn 1, still in cover
- go in the open turn 2 with everything. He cannot shoot it all down, right?
- charge turn 3
- keep up fiery convocation as the highest priority spell: it reduces the big units heavily and if I get Watz to dispel it in his own magic phase it puts some pressure off me

To this end, I deployed in the following way:




Bus, phoenix and dragon are in cover, eagles had to go in the open.
The black orc general joined the goblins, the BSB the savages. Two goblin shamans remained on their own.
As an alternative, I considered putting the bus right to the western edge. The savages should have been unable to intercept. But keeping them from countercharging would have been difficult so I abandoned the idea.

Spells:
High archmage: soul quench, apotheosis, arcane unforging, fiery convocation
high mage: drain magic
undead lore shamans: able to summon infantry units, swarms and characters/monsters



Lost Colony, Turn 1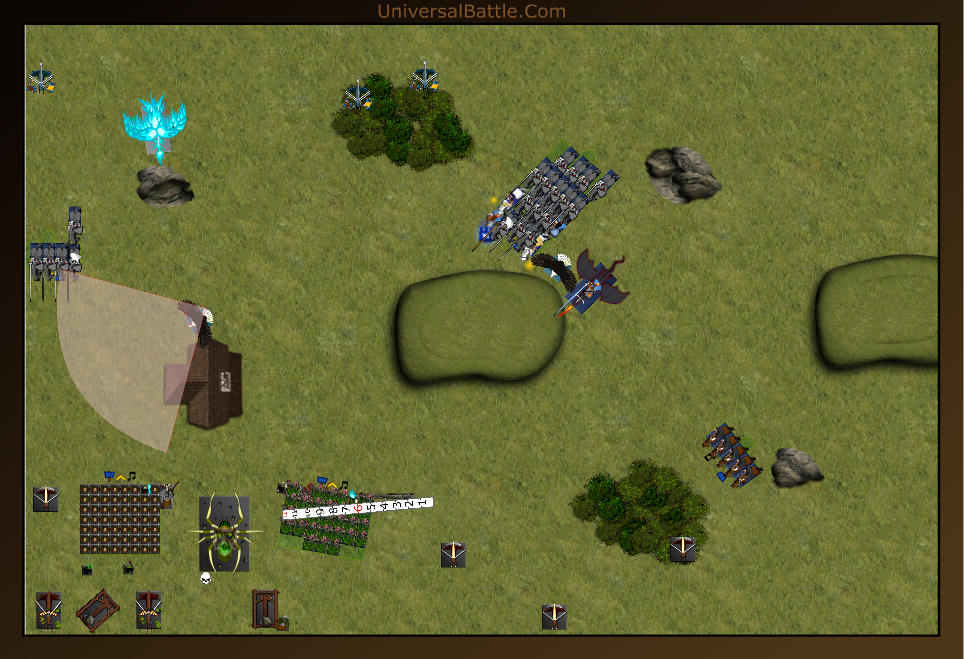 Surprisingly, I won the roll off. Without delay, I moved forwards while staying in cover.
One interesting option that I am consiering now is that maybe I could have moved the small helms further. In the game, I placed them just outside of the goblin charge range. If they went further, though, I might have tempted the goblins to charge, abandoning the war machines, and going out of the 4+ channeling bubble. On the other hand, the general was with them so parking the phoenix there would have not been wise. So there would have been negligible benefit probably.

You can see that my dragon is easily visible to two spear chukkas. This was a mistake – I was not aware of that at the time but it was possible to hide the eagle to the west of the bus and shuffle the dragon a bit to the north, as I did Turn 2.

In magic, unforging on the shrunken head was dispelled. Then I failed to cast fiery convocation and forgot my reroll for Book of Hoeth. Stupid. Had I met the casting value he would have either suffered heavy losses or blewn his his scroll. Now I had to anticipate another magic phase doing absolutely nothing.

Shooting did a wound to the spider.

Orc and Goblins, Turn 1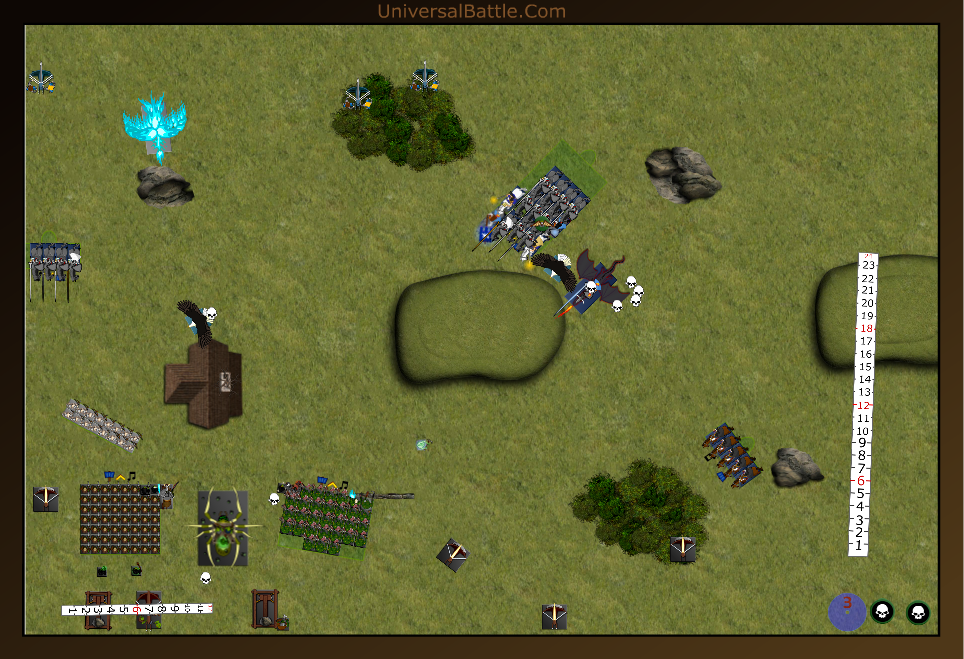 I am not sure if the OnG army moved at all. In magic, I started to understand what nastiness I was about to face when Watz claimed an 8v4 phase to be bad. He one diced a d6 S3 on the small silver helms which I let through in anticipation of worse things. The result was one dead helm and one stolen dispel die. Perfect.
In addition, Watz managed to summon a unit of skeleton archers and a cairn wraith. This was helped by me failing a dispel roll due to first failing my math skills and second forgetting the book of hoeth reroll again. A goblin shaman got wounded with a mushroom at least.

Shooting put three wounds on the dragon with an indirect shot, wounded the prince and killed five silver helms. On the bright side, skeletons only wounded the eagle once and a doom diver blew up.



HIgh Elves, Turn 2






According to the original plan I was supposed to go in position for T3 charges. However, Watz still had his scroll and scepter of stability so I was unlikely to get any spells off and the dragon had been wounded already so my chances were slimmer than what I had done my estimates for. Besides, I thought I was seeing an opening. Therefore, my dragon and bus stayed behind the hill.

The Big Plan was:

The eagle charged the nearest spear chukka. In an ideal case he would need two combat phases to destroy it; this way he would have been safe during the next shooting phase and able to charge in my following turn. Small helms charged the skeleton archers; I thought I had a very good chance to crumble them right away and overrun in the goblins. There, the general would have been unable to make way because of colliding footprints so I would have been almost sure to hold them down for a turn at least. This would have prevented the general from moving to the savages and the goblins from shooting, which would have been a good insurance should the eagle destroy the spear chukka on the charge. I even tried to get the eagle in contact with the warmachine from the east as it would have prevented Watz to combat reform the general in contact with the helms. My opponent had some doubts regarding the legality of this move, though, so I abandoned this idea as I did not want to lose time seeking quotations.

As I deemed it possible that I would to able to destroy the machines actually, I decided not to risk exposing my main units and instead left them waiting. An attack could wait till the rock lobbas die. I only brought the phoenix nearer in case I would have needed it somewhere. Notice that two spear chukkas were able to see the dragon; I did this intentionally to hide the eagle. I expected to need it for some redirecting or warmachine hunting.

In addition, my reavers charged a spear chukka. I knew that after a reform, they were almost sure to destroy one more spear chukka and overrun into even another. This meant that in the following turn I would have only been shot at by two machines which was worth the wait in my opinion. According to the Big Plan at least.

No spells got through but I drew both scepter of stability and scroll. Shooting killed two savages.

My beautiful plan failed for several reasons. First, the eagle scared the goblin crew to flee and remained in the open. Second, there were actually sixteen skeleton archers and four of them remained after the crumble. When considering the charge I somehow thought there were only ten of them. Third, I did not measure the position of the reavers after they destroyed the spear chukka, chose an overrun and got off the board. This together meant that the goblins were free to reform and shoot at the eagle, the orc general was able to countercharge the helms and reavers had to wait a turn before destroying the remaining spear chukkas. My chance at getting an opening was gone.

I am not sure what was the correct play with the eagle and small helms. Eagle charging the warmachine and helms moving out of the charge arc of the warboss perhaps? The skeleton archers need to be killed, though.

Orcs and Goblins, Turn 2




The orc warboss charged small silver helms. Goblins reformed to shoot at the eagle. Arachnarok shuffled to get the phoenix in sight. There was little movement otherwise; some heroes might have shuffled a bit.

Goblins pin cushioned the poor eagle. Phoenix suffered two wounds, I think from the 3d6 magic missile. Dragon got wounded once more with a spear chukka and five more silver helms died to a doom diver. The bus was starting to look quite sad.

The orc general killed my silver helm champion easily. However, as the elves destroyed all four remaining archers and wielded a banner he lost combat by two actually. He passed his break test, though, so I reformed for at least a small chance of wounding him.

High Elves, Turn 3




I could have tried to get another opening. However, I was slowly getting out of units to do so. Reaves were unable to charge this turn and therefore quite likely to get shot down and the eagle could not go in the open with two spear chukkas still operational. Therefore, I decided to go all in and pray. I hope I managed to set my units up so that nothing besides good shooting could have saved the savages while not offering any flank shots.

In magic, fiery convocation got dispelled but I healed the dragon for two wounds, bringing him to five. Reavers shot two goblins from under the nearest spear chukka. Bolt throwers tried to kill a lone goblin shaman to hopefully force some panics - the machines were outside the range of their general - but they only scored one wound.

Small silver helms did not manage to scratch the warboss and he killed two. The standard bearer died after failing his break test. Pity. If he held for a turn more I would have tried a sinle shot on the orc.

Here we had to stop the game as we had already spent five hours playing and I had to leave.

Orcs and Goblins, Turn 3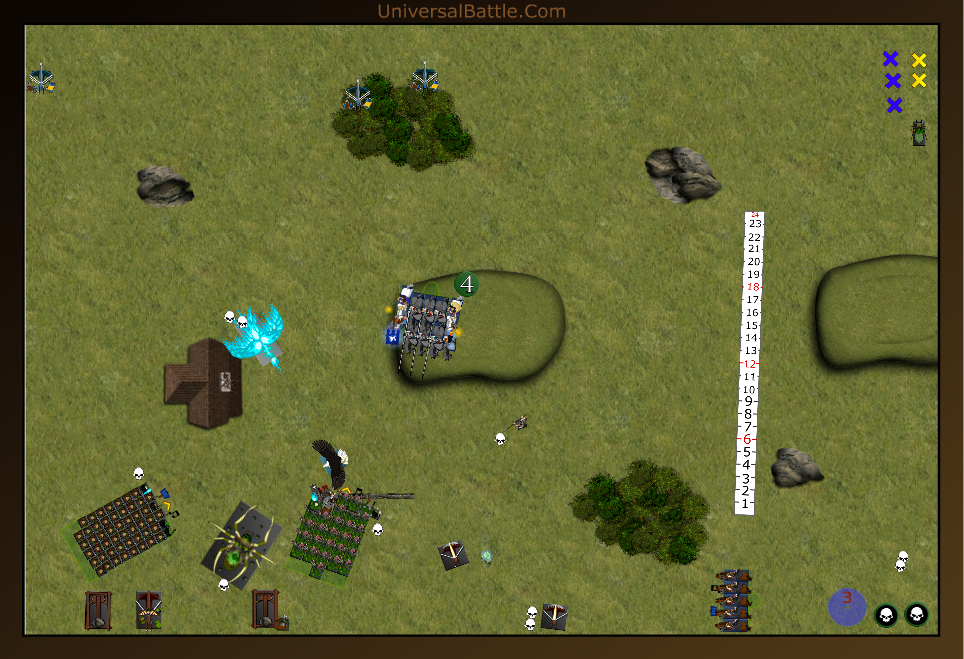 Next day we met again and Watz started by agonizing for some 50 minutes if he should charge. Somehow I had hoped he would have decided during the day long pause.

In the end, he did not charge and assumed defensive positions instead. Goblin shamans hid in the big unit, general joined the savages, cairn wraith positioned himself to prevent the overrun of the elyrian reavers in the other spear chukka. Savages reformed for as many ranks as possible.

In magic, I let through a combat hex on the silver helms, intending to drain magic it in my turn. Otherwise, nothing of importance went through; I think Watz lost four dice when his goblin shaman ate a bad mushroom. Nor really sure.

Then the super important shooting phase came. First shot, a rock lobba hit the dragon, five wounds. Bam, dragon down and with it my chance of breaking the savage orcs. The remaining artillery was shooting at the phoenix and failed to harm it.

High Elves, Turn 4




With the dragon dead, charging the savages would have been very risky. It might have worked as the number of return attacks would have been quite low and I should have been able to kill the BSB, meaning a break test without reroll for him; still, with a countercharge of the spider imminent, I could have got in trouble very fast. Therefore, I decided to leave them alone.

Instead, I sent the eagle after the artillery and reavers to kill the spear chukka finally. Ogre blade noble charged out of the unit to singlehandedly destroy one more spear chukka and overrun in the cairn wraith. Phoenix continued to hide behind the house and the unit of helms backed away and got out of the sight of anyone. General hid behind the hill to conserve points.

At this point I knew I was unable to get the full four points for scenario. If I managed to ensure the orcs did not reach my deployment zone, though, I could have got at least three points which is surely better than nothing.

Neither magic nor shooting did much of importance as my opponent chanelled enough to have more dice than me.

The ogre blade noble fluffed and failed to kill his spear chukka. The warmachine held as it was near both the general and the BSB. Reavers destroyed their spear chukka and managed to reform in such a way that the cairn wraith was not seeing them. Eagle broke the doom diver crew and overran in the rock lobba.

Orc and Goblins, Turn 4

I am missing the picture here - many apologies.

Watz pursued my helms with his savages. Before that, his general left the unit and chased my prince instead. Goblins lined up to shoot at the phoenix. Otherwise, my opponent only did a little.

In magic, I let through the -D6 movement spell on helms (might have been a mistake - see my next turn). It only reduced their stats by one, luckily. I dispelled poison on goblins. No more crucial spells went through for some reason - I think Watz miscasted on something not so important and lost dice.

Lacking poison shots, goblins failed to kill the phoenix. Rock lobba scattered to nowhere.

The ogre blade noble finished off the spear chukka at last and I decived to play it safe and reform towards the last rock lobba. This proved as a good decision as the eagle failed to wound the rock lobba crew and the three goblins killed it in return (three wounds out of three attacks hitting on 4+ and wounding on 5+, those little guys were surely cool).



High Elves, Turn 5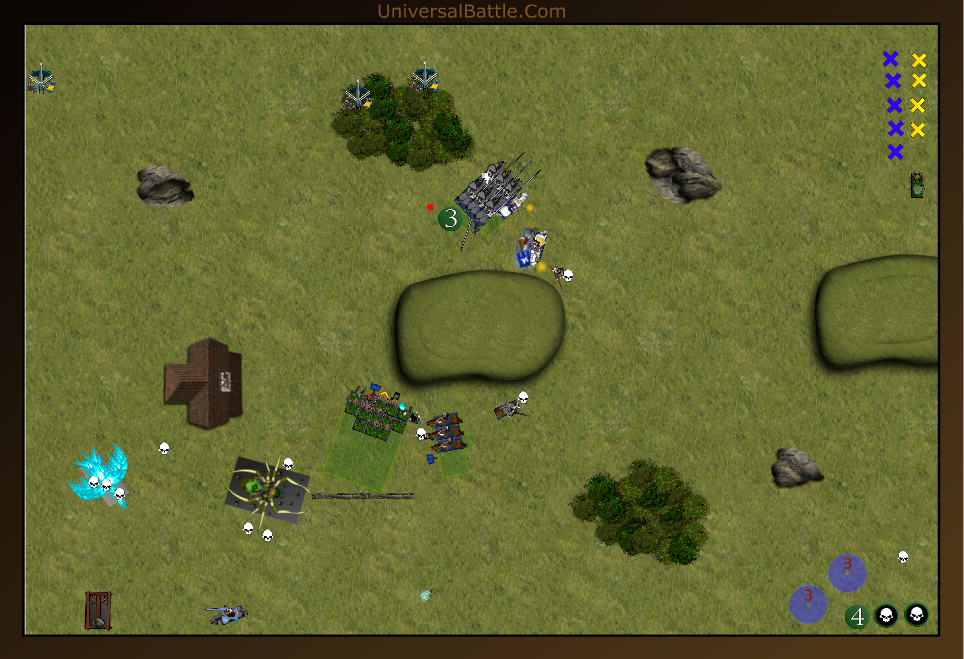 First of all, the goblins were outside the general and BSB bubbles and in line of sight of the phoenix. I charged and they failed their Ld6 terror test. If they passed, I was quite certain to win the combat even with nasty skullkers and force a break test on Ld6 again... anyway, the phoenix caught them and reformed towards the warmachines, safely within 12 inches from the rock lobba.

Now, about the general. If I charged with the bus (and he elected not to flee) I had a chance to break him with static combat resolution. However, if he stayed the bus would have been visible to the savages who would have killed them off quickly. Too risky. I originally wanted to go there but changed my mind; this is why I had allowed the movement reducing spell as it made no difference for the charge.

Anyway. Ogre blade hero charged the rock lobba. Bus was in trouble so the archmage and BSB left it and formed a new unit, invisible to the orcs. The helms then reformed and raced directly away. If my archmage stayed here the bus would have been safe as well but it would have meant no offensive magic. There was of course some risk involved as the rock lobba might have succeeded to drop a rock on the head of one of the heroes. I deemed it worth it, though.

And indeed, while arcane unforging got dispelled I finally forced through fiery convocation, reducing the savages to a very sorry state. Shooting killed some more of them and the ogre blade noble dispatched the rock lobba without problems. Things were starting to look bright again.

One more word about the reavers. When I had placed them the spider was unable to charge them because of interfering orcs; I failed to account for the casualties. Tempting the charge had some benefits, though - if nothing else, it meant the spider was unable to charge my bolt throwers and get in my deployment zone. And it might have lured the orc general in the open, under bolt thrower fire.



Orc and Goblins, Turn 5






My oh so mighty plan worked - the spider charged, reavers fled, warboss charged as well, they escaped both. Orc were going forwards (but not at full speed it seems?), only a goblin left them and hid behind the hill.

No important magic again. The orcs had far less channels than before and I used the scroll. Only one rock lobba was left to shoot and it achieved nothing. There was no combat.



Lost Colony, Turn 6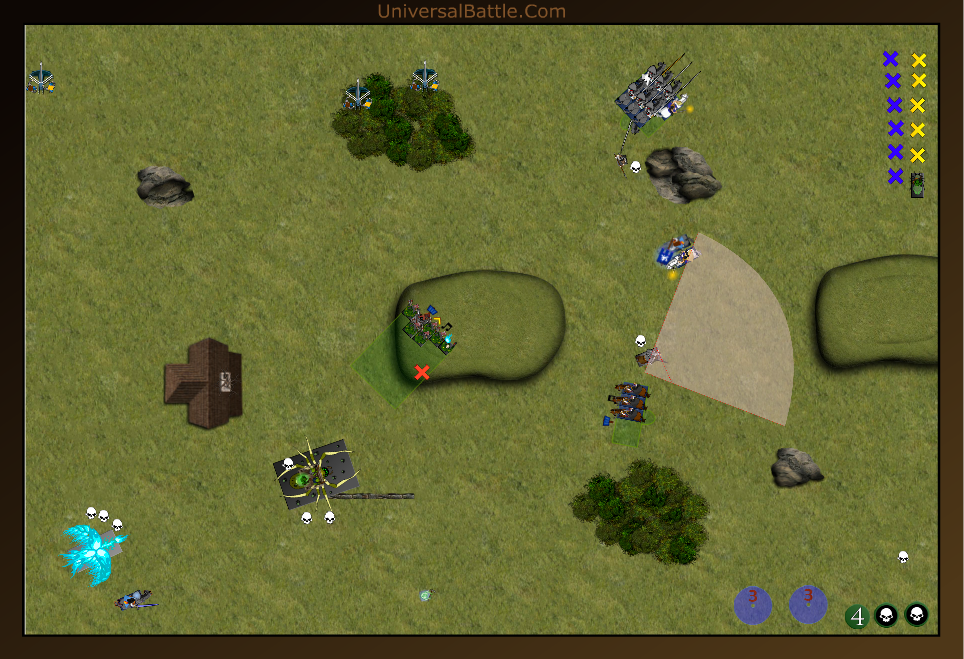 There was little left to do that would have mattered. In addition, I was near midnight and the ninth hour of the game in total, fourth the particular day, so I wanted to get over it quickly. Both noble and phoenix charged the last warmachine (there is no kill like overkill after all), helms hid somewhere behind the rocks, prince ran right away from the savages. Reavers rallied and prepared to shoot the lone goblin. I was measuring the archmage and BSB for a while as I originally wanted them to go under the warboss, in soul quench range from the lone night goblin and at the same time able to cast arcane unforging on the warboss and big soul quench on the savages. This proved quite hard to do so I decided not to waste time trying and just placed them somewhere. Well, it turned out I left them visible to the warboss. I only realized this in my magic phase and Watz said it was too late to shuffle them.

I do not know what I have actually said about the heroes in the Skype call. I certainly said something like "I just place them somewhere to make it quick." I might have said: "I place them somewhere you will be unable to charge them." Then, shuffling a bit would have been only fair. I might have only mentioned the savages. There is no way to find out.

Anyway.

Big soul quench on savages was dipelled but fiery convocation ticked again, killing a few guys. Reavers killed the night goblin. I tried to singleshot the warboss: first shot missed, the second hit and wounded but the roll to wound had to be repeated because of the Trickters helm and I failed to roll my 3+ the second time. Third bolt thrower tried a flank shot on the savages and missed.



Orcs and Goblins, Turn 6






The warboss charged my heroes who fled. No other movements had a chance to be significant. In magic, Watz summoned some skeleton archers and tried to shoot the prince but without success.

In the end, Watz scored points for both eagles and small silver helms but because he also got half of the points for the fleeing heroes the game ended a 13:7 in my favour (and I was 10 points short of a 14:6 which does not make me feel better). If the heroes were not forced to flee it would have been a comfortable 15:5.

In addition, after the game I realized I am stupid and cannot read. I thought I had the scenario in my bag thanks to the phoenix in the OnG deployment zone. However, monsters only count for 0,5 ranks and I would have needed a full rank to score the scenario point. This way, we split the scenario points evenly. This is quite annoying given that my reavers were in excellent position to claim the zone.



After battle thoughts



Well, I have to admit I was frustrated from the game. It is mostly OK now but I feel for poor Rowena who had to listen to my ramble just the day after.

You know, I could have tailored a list against orcs. PG block or maybe two, some archers to shoot manglers and risen wolfs, archmage, flaming BSB to help agains trolls, maybe a fighty lord if I had spare points. A PG block is basically immune to the artillery, goblins can hardly shoot enough to make a difference and it easily grinds down anything OnG can throw its way. Chariots might be bad but even chariots would need to come in great masses - and survive my own shooting first.

It is probably my own fault that I brought the dragonlist nevertheless, fully aware that if luck goes against me I will have nothing to do about it because there is no plan that can survive a few direct catapult hits. As I have said, I did not want to tailor as I consider it ungentlemanly. Still, maybe the PG block would have made the game more interesting.

I think I played reasonably well. I did not hesitate with attacks too much (I am still not sure if I should have gone in the open Turn 2 but there were some reasons not to do that), I created some opportunities, I exploited some openings, I danced out of some charge arcs. There were mistakes of course - overrunning with the reavers and forgetting the BoH reroll at least - but apart from that, I do not see many significant improvements. In addition, those mistakes were imprecisions rather than bad judgements. My thinking was sound, I just forgot some crucial information.
And still, I was too often left with no other choice than praying for the goblin artillery to miss. It felt that I was trying to come up with something clever while Watz was just sitting in his corner and shooting and that alone was giving him a very good chance at a win. The slow tempo of the game did not help, either. I am rather a slow player as well but I was still twice as fast as Watz and I was at least doing something.

Then, from Turn 4 onwards, I was starting to feel better. With the combination of luck, some good judgement on my part and mistakes on my opponent's, I earned some decent points and more importantly, there were finally no more inescapable threats. It was still a challenge to get everything to safety as the charge arcs of savages plus general were quite big but I was finally able to create the game. I still had to take some painstaking measurements though as evading with the helms was not trivial.

And then, in the last turn, there was nothing more that could have mattered. So I decided to do it quickly and end this agonizing battle that was already spanning over two days and nine hours. And I was punished for it severely. Sure, a 13:7 is still a win and I am more than happy about it as I could have got tabled easily but I cannot avoid the thought that I lost two whole points just because I wanted to go to sleep before midnight.

Enough rambling, analysis time. In general I do not see many things I could have done better. One important thing to note is that my phoenix was quite afraid of the warboss who had four S7 attacks in the first turn and of the spider, too, because that beast has, in addition to its many normal attacks, one special one which can inflict d6 wounds. Furthermore, the it is unbreakable.

I might have missed some nice opportunity Turn 4, however. I had the option to charge the northeastern spear chukka with the whole bus. I would have splintered it terribly and overrun in the cairn wraith, out of the line of sight of the savages. The orcs would have reformed to face me probably but I would have been granted a combat reform after this and so would have been able to react for example by showing them the backs of my helms and racing 18 inches to the east. Should the savages reform incorrectly, however, I might have had the opportunity to, say, reform three-wide, charge the catapult and overrun in the spider. The danger would have been that should this go wrong I might have been shot at directly by two catapults. I actually think I should have done this - or am I oversighting something?

This match also shows a weakness of high magic. If an opponent has so many dispel dice the best way is to cast a lot of small spells so that the +1 to cast high magic and the book of hoeth reroll get to work as much as possible. This would need many small useful spells, though. In this game, there was an extremely important fiery convocation, an extremely important apotheosis and that was it basically. I think it might have been different either with death magic for example (the general is crucial for orcs and purple sun ruins them as well - and most of the spells can be attempted on two or three dice, four in the case of sun) or with high magic + infantry for example (as hand of glory and walk between worlds suddenly become very potent spells). High magic is potent as it has tools for everything but sometimes it is too obvious which tool is useful and which is not.