---
Lost Colony versus HE Outcasts

Greetings,

something is going to happen in this long-neglected blog again! On friday, using Universal Battles, I had the pleasure to play against no one else than the renowned Swordmaster of Hoeth, one of the best reporters on the internet, a long-time proponent of MSU and a pretty good player. And to make it even more interesting, we were using the 9th age rules.

As it is Swordmaster who is preparing the diagrams, the colours are different than usual. Also, this battle report will be published in several steps, giving you time to guess what will happen next.

9th age

You can find their website here: http://www.the-ninth-age.com

This is one of the projects that aims to do new rules now that Games Workshop seems to have abandoned fantasy. However, it seems (to me at least) to be one that attracts the most international attention and that has the most ambition. Unlike other attempts that are mostly about staying in the Old World and revising WHFB 8th, these guys are aiming to escape from the waters of GW intellectual property and create a whole new world. The beta version of their rules should be out on the 11th of September, along with temporary armybooks for every race. Shortly, full armybooks will be made, based on playtesting and feedback.

Some of the important changes in rules are (borrowed from SmithF from Asrai.org):

- Spears: they now give KB against cavalry/monstrous cav. when engaged to the front; a good change and pretty representative of what spears did in classical warfare.
- Lores of Magic: reworked, with new spells replacing old and never used ones, and 6th spells slightly toned down (more on this later)
- Magic System: Miscast table reworked, the results vary based on how many dice were used to cast. Irresistible force now adds a big bonus to the casting roll, but can still be dispelled. Maximum casting dice = 5.
- Fast cavalry: units were split in pure fast cavalry that can vanguard (such as Reavers, Pistoliers, Spider Riders and the such) and Light Troops that retain the old fast cavalry rules in terms of movement/reforms but not the feigned flight or the vanguard option (such as Wild Riders, Warlocks, Pegasus Knights).
- Parry save: this was upped to 5+ in an effort to increase the use and survivability of Sword and Board infantry; a good change, if you ask me, and another reason to try and flank these infantry blocks!
- Marks of Chaos were also changed, mainly Nurgle (now forces rerolls on 6's to hit, making it better against poison but worse against regular attacks) and Tzeentch (the 6+ ward doesn't stack, but comes with a built-in re-roll 1's mechanism)
- Killing Blow: works on everything, but now only causes a single wound without armour saves on any unit type that was previously immune to it; infantry and cavalry now get D3 wounds instead of getting instantly killed. Good change, my wardancers are happy! (and better all-around troops now)

Other notable changes are slight points tweaks and nerfing of the worst offenders (Banner of The World Dragon, Chalice of Darkness, Storm Banner and the such) and a brand new Army Book for Beastmen!

Other changes, revealed in the sneak peaks from the rules, are changes to the way monstrous mounts work. Basically, there are two categories of mounts now:
- small mounts (like a manticore) work exactly like a pegasus with the exception that they do not give a +1 to armour save
- big mounts (like a dragon) make the defensive equipment of rider redundant as the enemy always attacks the monster
In both cases, the rider and mount die simultaneously. So for example, a sorceress on manticore has T5 W4, the manticore base, her ward protects her mount as well, but once the four wounds are down, both manticore and sorceress die.

Chariots now work exactly like small mounts IIRC – so you can have a dreadlord with T5, 4++ ward and D6+1 impact hits. Or a really sturdy death hag on cauldron.

My list

Well, I have tried MSU before but I had only limited success. It might have been my lack of skill, the armies I fought or just bad luck but too often, my executioners were being slaughtered even when charging a scar-veteran in the flank or fighting skullcrushers. Their largest problem is hitting their target – they might go on 3+ against most foes but out of 10 attacks, it is easy for them to only score, say, four hits. If this happens, or if the opponent rolls well for armour saves, the poor elves are facing a grim and very short future. One solution would be to give them more attacks but that is not that easy (it needs a bound spell from cauldron, a designated hero acompanying them or timewarp, there are no other possibilities as far as I know). Another would be to use other units to fight those armoured guys but they have their own problems. So in the recent monts, I was either playing them in horde or not at all.

However, the 9th age beasts magic offers one more chance to revive this idea. Under this system, the lore attribute is actually an additional spell that is cast whenever a normal spell goes through. In case of beasts magic, this spell can give a friendly unit either +1 attack or +1 strength. And it does not have to be the target of the original spell.

My friends, this is huge. It means that at least one combat buff is guaranteed. You might not know you can force through the wildform but you can rely on getting off something – and that something can give you quite a powerful buff as a side effect. Executioners with 15 attacks instead of 10 are more likely to produce at least, say, 6 hits. Warlocks with S5 can suddenly attempt to fight armoured units.

By the way, under the new rules, killing blow ignores armour and inflicts d3 wounds on cavalry and infantry. So one more buff for executioners facing monstrous cavalry.

So the basic idea for the army was set – beasts magic, MSU infantry and some support. Spears are now hopefully usefull again as they have killing blow against some foes at least. I wanted my sorceress to fly – she wants to throw amber spears in the flank of cavalry units, give herself (or another suitable model) a breath weapon (new version of Transformation of Kadon) and be close enough to buff anyone who needs it. That requires some mobility! Besides, with the combined profile, T5 W4 is not that bad. Her equipment is not ideal I fear, I have misinterpreted the new rules for ridden monsters, but who cares, a healing potion is cool.

And the BSB... well, she is a very sturdy model with high strength attacks that can buff near models significantly, what is not to like? She still only moves like an infantryman and is quite big so using her correctly is not easy. I am not sure without going through the pictures but I think this is an area where my play could have been improved quite a lot.

The enemy

Any unit can be dangerous if used right but the following threats were the most immediate:

His shooting that can kill my poor T3 unarmoured elves very quickly. I wanted to avoid being shot at by staying out of range and to kill his shooters with bolt throwers if possible. They have a big advantage in range so it should hopefully work. My other shooters could help too, of course, but their impact would be limited. In normal case (long range, move, multishot, no cover), dark riders have 10 shots hitting at 6+ and shades 10 shots hitting at 5+. They are not bad but expecting one squad of DR and one of shades to win against 15 archers would be too much I fear.

Here we come to another rules change: volley fire now allows a unit to ignore interfering units (if not moving I think). Therefore, while screening a unit with shades who are hard to shoot at might be generally a good idea it does not work against archers.

The other big threat are dragon princes whose role was surely to race forwards as fast as possible and destroy my bolt throwers. I had to prevent this as without RBTs, I would have little options how to kill the opposing shooters and would be going to be shot to bits. However, this goal is not straightforward. They survive RBT fire quite well (and until Turn 2 or 3 I thought they had 1+ armour, making me reluctant to aim shots at them). Executioners can be effective against them but only if they survive their attacks. So it was mostly a job for my heroes to counter them. Or for warlocks with doombolt or boosted strength.

Other units were not something I was thinking about too much in the beginning. Reavers and eagles will be hiding anyway before being assigned their task and the close combat infantry is slow. And will die horribly against my witches, spears and warlocks at least. Not that they are not dangerous, they are, but before I will have to worry about them, the situation will change quite a bit.

Spells

As Swordmaster explains on his blog on Ulthuan.net:



Wyssan's Wildform

- casting values 10+/13+; range 12"/24", Augment, Temporary; Target has +1 Strength and +1 Toughness

The Amber Spear - casting values 9+/15+; range 24", Hex, Missile, Damage, Instant; Target suffers 1 strength 6/10 hit with multiple wound (D3/D6), no armour saves allowed. Penetrates ranks like bolt throwers.



The Curse of Anraheir

- casting values 10+/13+, range 36"/72", Hex, Temporary, Target has -1 to hit (shooting and close combat), and treat all terrain (including open ground) as dangerous terrain, and fails dangerous terrain tests on 1 and 2.



Transformation of Kadon

- casting values 13+/15+, Cater, range 12", Augment, Focused, Temporary, Target get one of following effects (choose onewhen spell is cast):
Aspect of Hydra: +2 Attack and Regeneration
Aspect of Chimera: +3 Strength, 4+ Scaly Skin
Aspect of Manticore: +4 Initiative, Killing Blow
Aspect of Dragon: +3 Weapon Skill, Strength 4, Flaming Breath Weapon



Lore Attribute

- Range 18", Focused, Augment; Temporary, Target has +1 Strength or +1 Attack. (choose which when the the attribute is cast)

As you can see there are some interesting changes to the Lore of Beast. The lore attribute in particular can turn units into killing machines. Imagine Wild form and Lore Attribute augmenting a unit at the same time. Transformation of Kadon is great because now you are getting an aspect instead of trying to get the monster in some tight situation and it can be cast on something else not only the caster her/himself.

EDIT: As a reader kindly pointed out, we played the lore attribute incorrectly as it can only buff a single model. Pity.

Deployment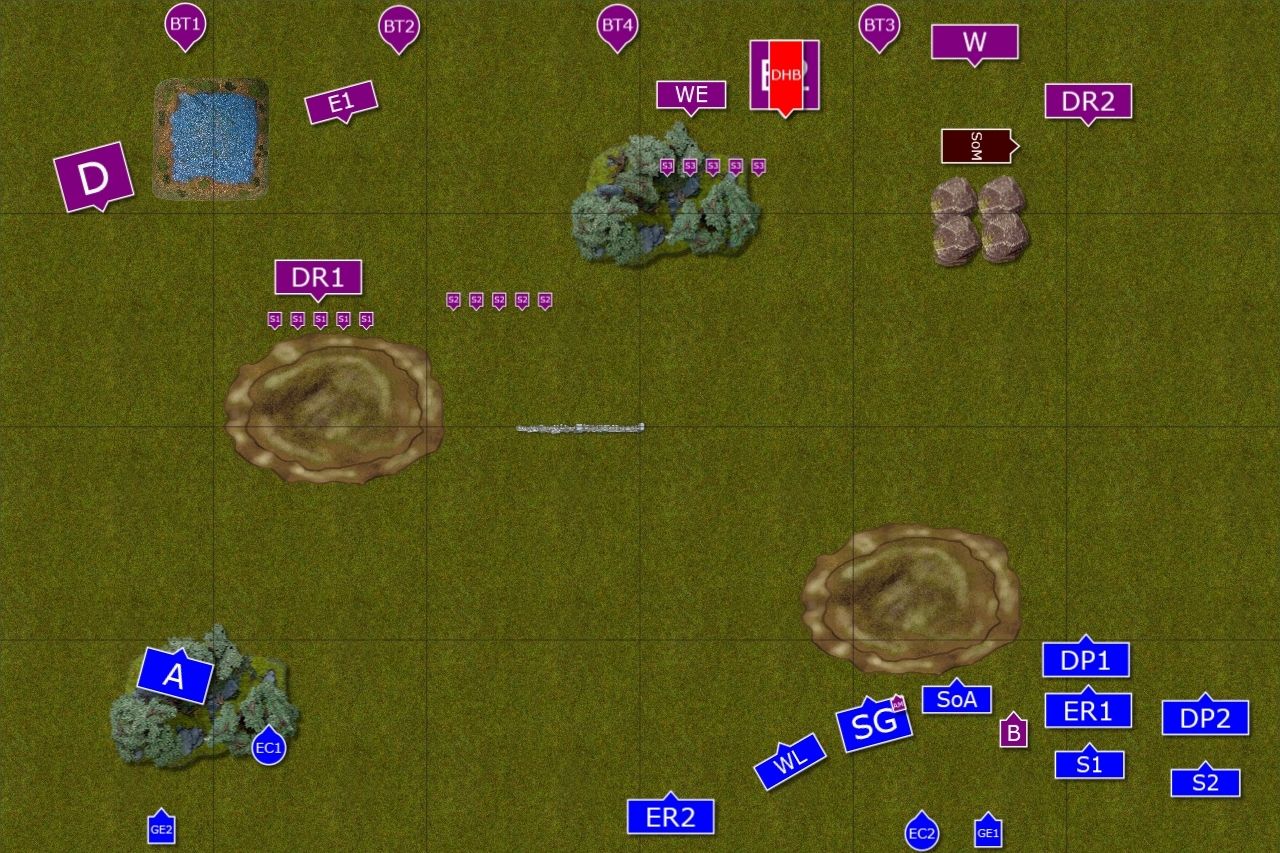 Deployment order:

1. Dark Riders (DR1) - Ellyrian Reavers (ER1)
2. Dark Riders (DR2) - Ellyrian Reavers (ER2)
3. Bolt Throwers - Great Eagle (GE1)
4. Dreadspears - Great Eagle (GE2)
5. Executioners (E1) - Sisters of Avelorn
6. Executioners (E2) - Sea Guard
7. Warlocks - Dragon Princes (DP1)
8. Witch Elves - Dragon Princes (DP2)
9. Characters - Rest of the Army

Scouts:

10. Shades

Vanguards

11. Dark Riders (DR2) - Ellyrian Reavers (ER2)
12. Dark Riders (DR1)
The army Swordmaster has is awful in this regard. His first four drops reveal almost nothing (I thought the eastern reavers were a bit to the back because of scouts). Then he continued with two shooting units behind the hill which is a decision that still only says a little – and while I suspected the loremaster might go in the sea guard and the BSB will hide behind the hill it still said nothing about dragon princes. So I was putting my regiments down blindly more or less.

First of all, I wanted my RBTs out of range of opposing archers as a volley of 15 shots could with some luck destroy them. I was not happy about having to shoot through a forest all the time but better this than being destroyed turn 2. Besides, I expected dragon princes (or other units) to attack them as quickly as possible and wanted to have time to deal with them. If deployed more forwards, they could have been charged turn 2 in theory. And they had to be spread because otherwise, getting in cover or out of range would have been considerably easier for enemy units.

A spread deployment meant more difficult protection, however. The eastern flank was easy as I knew my heroes will be deployed behind the house anyway, to avoid bolt throwers shooting their way. I had to protect the western flank with spears, though, and they had to be either in the water or to the west of it. I thought that while they will probably be out of the game for quite a time after being deployed so far to the side, keeping my backline safe is worth it and they might be able to march to the middle and flank charge something.

The thoughts about executioners 1 were similar – I needed something to intercept a possible attempt to get behind my lines and I needed this something to stay out of range of the opposing shooters.

Otherwise, I was just trying to stay in cover and out of range (which I did not achieve entirely) and to have some means to intercept enemy attack, should it come. I am not convinced about the position of the cauldron, it should have probably been operating alone and amybe it should have been controlling the area to the east of the rocks but I am really not sure. Being in a unit protect the BSB from single shots. There is not that much space behind the house to hide her as well as the sorceress.

All things considered, I am relatively satisfied with my deployment. Swordmaster surely has an advantage here as his units can support each other better but that could have hardly been avoided given his advantage in cheap drops. I had something to destroy or at least keep busy his archers and enough regiments to stop the attack that was likely to come on the eastern flank.

Outcasts - turn 1




The High Elves waited for nothing and mounted an attack. Their shooters climbed the hill and rained quite a few arrows on my shades. The western bolt thrower was extremely effective against my spearmen, killing four or maybe even more. Dragon princes advanced on the eastern flank, their back guarded by swordmasters. They were still relatively cautious, though.

Magic Phase Details (as written by Swordmaster):

Winds of Magic: 2,5 --> 8-6 (one channel each)
Miasma at BT2, BS: 1,6 + 2 = 9, no dispel attempt, d3=1 --> -1
2d6 Fireball at BT4: 4,5,6 + 2 = 17, dispel attempt successful on the roll of 2,2,4,6,6
Earthing Blood, Bubble: 1,3,3 + 2 = 11, failed to cast

Lost Colony, Turn 1




My main objective for the opening turns was to neutralize the enemy shooters. To this end, spears moved towards archers, shades and dark riders attacked a bolt thrower and RBTs all aimed on sisters on the hill. The result of my shooting was diappointing but still, the western bolt thrower was wounded and a few sisters died.

Second, I had to stop the attack of dragon princes. As they were relatively far back still, though, I still had to guard both paths arround the impassable. On the other hand, I had some time to adjust my formation still. My cauldron should have maybe left the executioners to give me more options later, though. Not sure about this.



Magic Phase Details

:

Winds of Magic: 1,4 --> 5:4
Amber Spear at DP2: 1,5,6 + 4 = 16, no dispel attempt --> lore attribute: +1A for Executioners --> 1 dead Dragon Prince
Wildform at Shades in the Woods: 1,6 + 4 = 11, dispelled on the roll of 1,4,6,6

Outcasts, Turn 2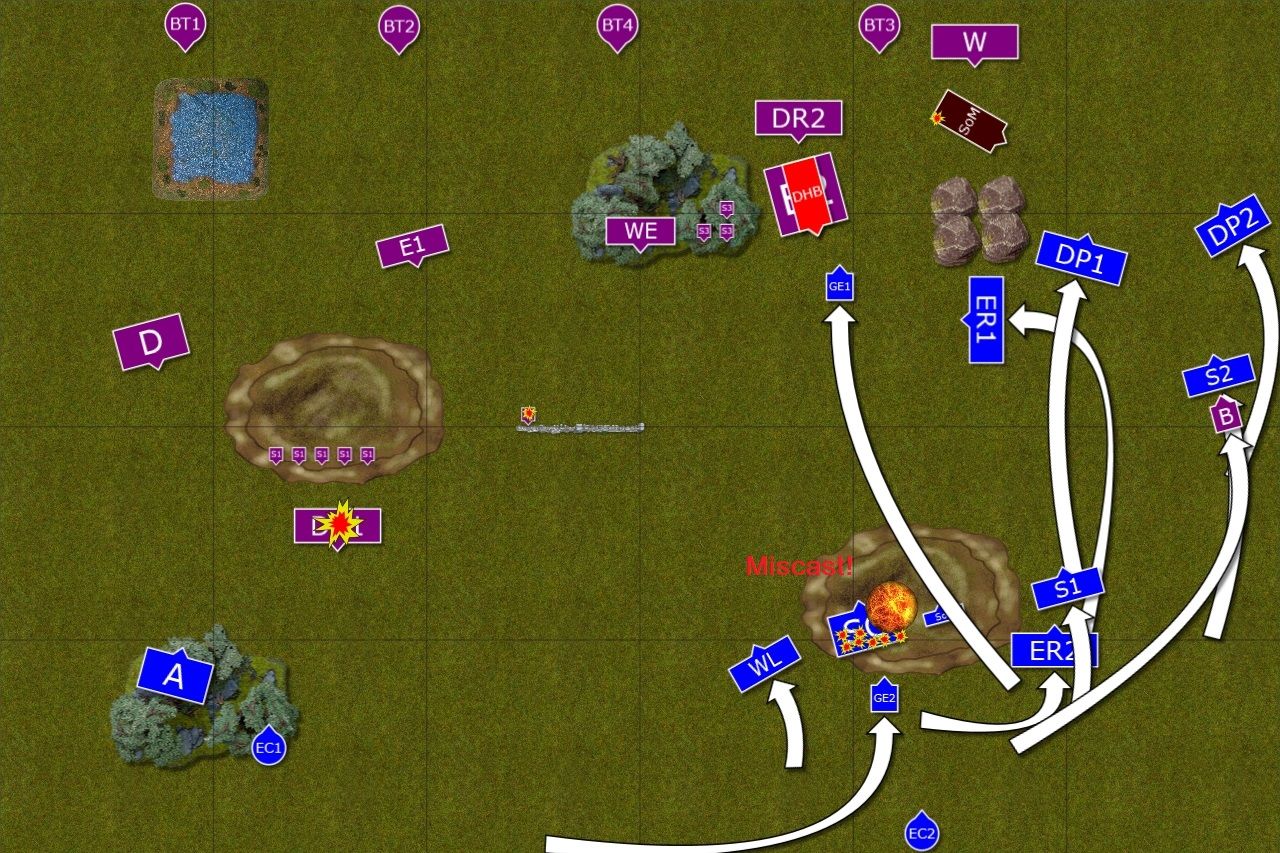 The attack continued, the dragon princes were now close enough to attack the bolt thrower. Notice how the swordmasters are guarding landing spots behind the cavalry. The eagle redirected my cauldron executioners in such a way that a lone cauldron was unable to charge out as the original unit was in the way.

Shooting was reasonably successful with the dark riders on the west destroyed completely. I was quite lucky, though, when the loremaster miscast and blew up a nice number of sea guards. Less shooters for me to care about! I could have actually tried to dispell as under the 9th age rules, a miscast only adds a significant bonus to the casting roll (d3 + number of power dice used) but we only remembered too late.

Magic Phase Details:

Winds of Magic: 6,6 --> 12-7 (one channel for DE)
3d6 Fireball at Sorceress: 2,3,6,6,6 , no dispel attempt --> 3d6 = 10 hits --> 3 wounds, 2 saved

Miscast result: 8 sea guards dead, loremaster wounded, 5 power dice lost.

Lost Colony, Turn 2




I knew the shooters were about to be destroyed so I could dare to fly out with the sorceress to attempt some amber spears in the flank of dragon princes. Granted, a bit bold as one of the bolt throwers was able to shoot her way.

On the west, I continued my attack against the shooting base. I god very lucky as the shades were able to destroy the bolt thrower, panicking the nearby archers.

Witch elves marched forwards, eager to chop down some swordmasters or white lions.

The difficult question was how to stop the attack on the eastern flank. In the end, I decided to guard my RBT with warlocks. (I could have moved it but I really wanted to shoot as much as possible that turn - I had a chance to kill the loremaster after all.) I knew I had enough augments to make them on par with dragon princes.

Shooting was indeed effective, killing the sisters and sea guard to a man. The loremaster survived but that would be asking too much I fear.



Magic Phase Details:



Winds of Magic: 3,3 --> 7:3 (one channel for DE)
Amber Spear at DP1: 2,3,4 + 4 = 13, dispelled on the roll of 2,3,6 + 2 = 13
Wildform at Warlocks: 1,4,5,6 + 4 = 20, no dispel attempt (Edit: With (incorrectly played) lore attribute they are now S6 T4)

Outcasts, Turn 3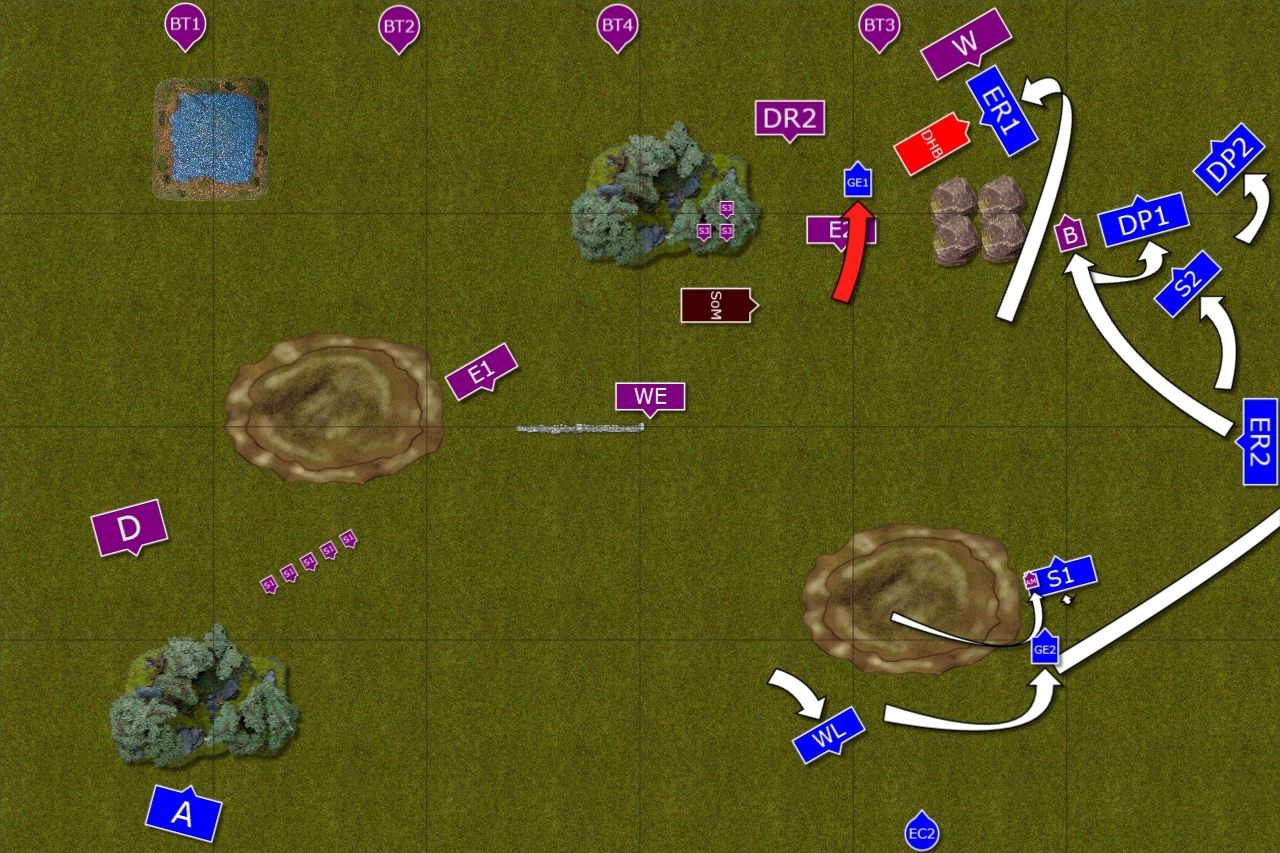 Great eagle failed a charge on my RBT (needing 6 or something similarly laughable). The flanking force advanced carefully. I could have either attacked the reavers and suffer retaliation from both dragon princes units and the BSB, or waited and tried to deter the attack in some other way.

Elsewhere, the HE retreated from the centre. Archers rallied.



Magic Phase Details:



Winds of Magic: 4,5 --> 9:5 (no channels)
Burning Gaze at Sorceress: 2,3 + 2 = 7 --> no dispel attempt --> d6 = 2 --> 1 wound, no save
2d6 Fireball: 1,3,3 + 2 = 9, failed to cast
Miasma at Dark Riders: 5,6 = 11, dispelled on the roll 4,6,6 + 4 = 20
Earthblood: 2,6 = 8, dispelled on the roll 3,5 + 4 = 12

Lost Colony, Turn 3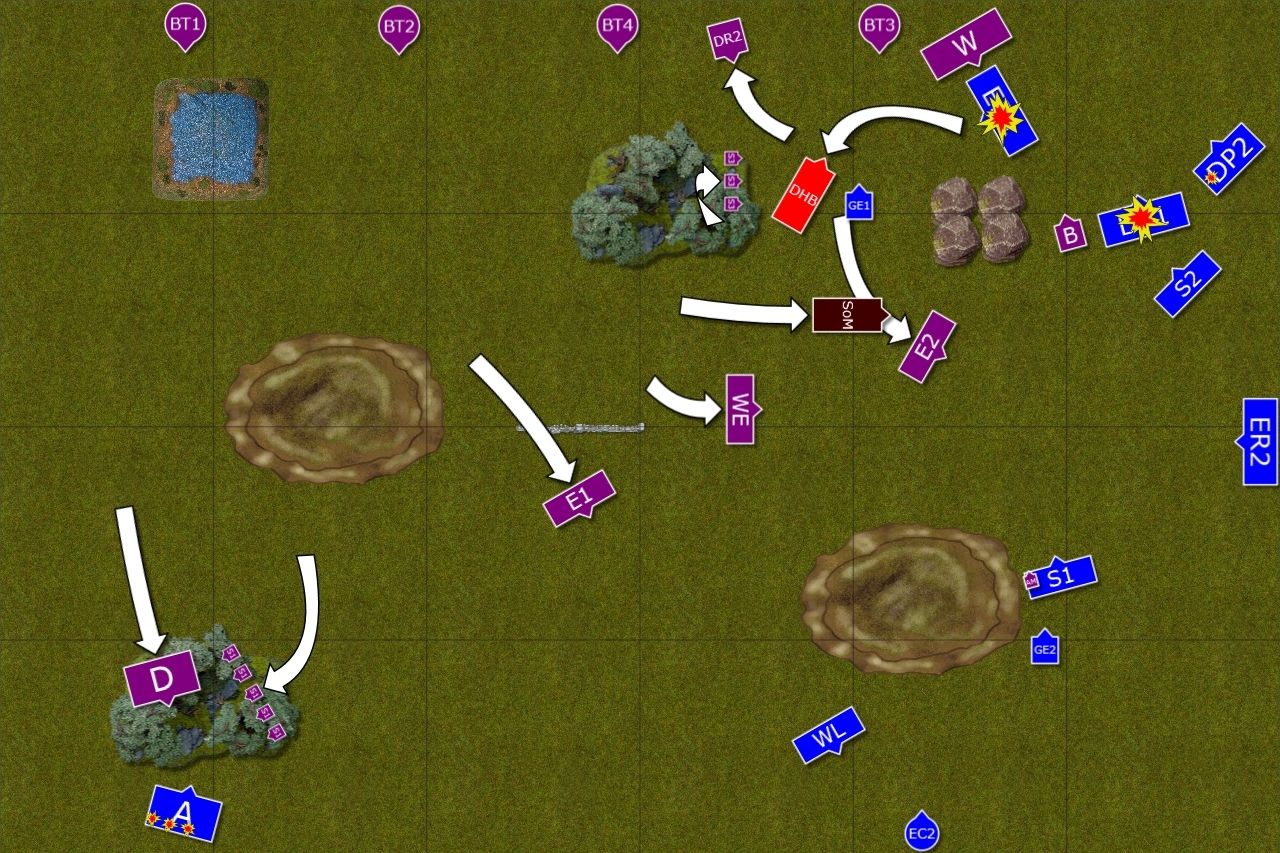 Here, I did some mistakes. My plan was to retreat slightly, shoot down the eagle and the reavers and slow down the enemy approach with warlocks. The cauldron was positioned to counterattack. There would have been no way to escape my BSB for anything charging the warlocks – the charger could maybe overrun off the board but the death hag would have just waited for him or he could get stalled by the RBT or warlocks themselves, exposing himself.

However, shades could shoot nothing as the cauldron obscured the view (under 9th Age, if something large is in the way, monster, cavalry or so, you or your target have to be at least as large to have line of sight). Combined with dark riders needing 6s to hit and some not so great rolling, the eagle survived.

To the south, the sorceress killed an entire unit of dragon princes with small amber spear. Lucky me. Infantry regiments closed in to threaten the loremaster.



Magic Phase Details:



Winds of Magic: 1,2 --> 4:2 (one channel for DE)
Amber Spear at Dragon Princes: 1,4,5 + 4 = 14, no dispel attempt --> all unit dead
Frenzy bound spell from the Cauldron: 2, failed to cast

Outcasts, Turn 4




The remaining dragon princes and BSB charged my warlocks who to my surprise fought well and held. The safety of attackers was assured by a redirecting eagle. This is why I really should have shot it down.

Furthermore, Swordmaster noticed his swordmasters can attack the executioners in the flank. I thought I had to stay because I did not want them to redirect in my sorceress. Fleeing with her was unacceptable as she would have maybe fled in the charge arc of that infamous eagle.

The other eagle redirected my witch elves who were otherwise in perfect position to help the sorceress after the executioners get inevitably butchered.

The loremaster-swordmasters failed their charge. In the ensuing combat, I managed to kill all the reavers that were sent there just to be sure and the swordmasters champion fell as well; however, the executioners were broken and nine swordmasters overran in contact with the sorceress.



Magic Phase Details:



Winds of Magic: 1,6 --> 7-7 (channel for DE)
Iceshard at Executioners (E2): 1,1,2 + 2 = 6, failed to cast

Lost Colony, Turn 4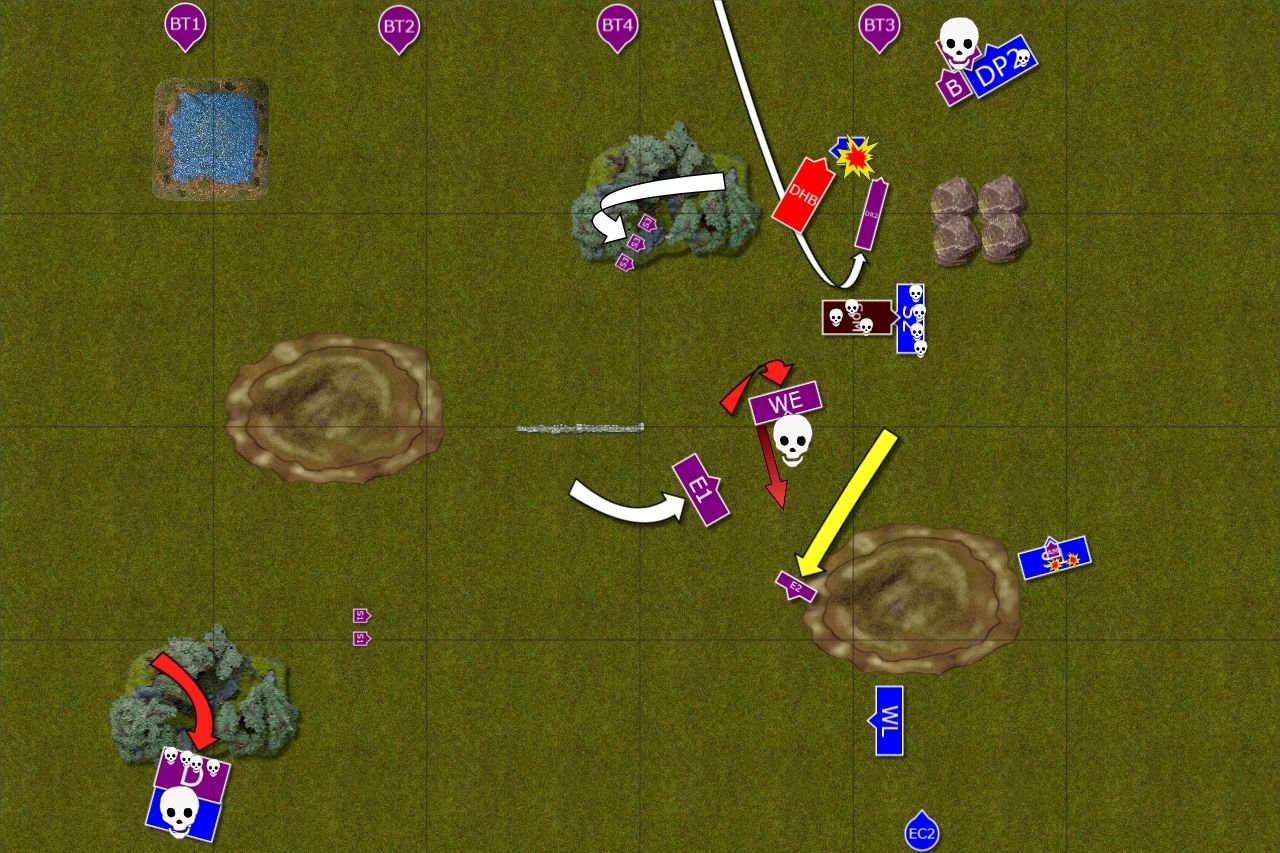 My options were limited. Both witches and BSB killed an eagle at least; the overrun of cauldron was stopped by dark riders while witches were carried out of position. Warlocks finally fell, meaning the enemy battle standard bearer and dragon princes will be able to move freely next turn. I would have prefered them to die one turn sooner – then, I would have been able to shoot at the victors with them unable to hide.

I was at least successful on the west where spearmen finally reached and destroyed the archers. To be honest, I do not understand why Swordmaster did not move them the turn before: by backing a bit, they would have been further than 5 inches from me, allowing a stand and shoot. The spearmen victory would have been very likely nevertheless but it would have given him a chance at least.

The most important question of this turn was, however, what will happen with my sorceress. Basically, without buffs she was dead but I had one magic phase to save her. Transformation of Kadon (dragon breath to kill lots of swordmasters before they strike) got dispelled and then I miscast on wildform and lost all remaining dice. I should have probably cast soulblight on the swordmasters instead, the result would have been very similar but miscast for warlocks works differently. It would have allowed one more buff.

As it stood, the sorceress suffered three wounds and only killed a few swordmasters. This was bad.



Magic Phase Details:



Winds of Magic: 4,6 --> 10:6
Transformation of Kadon, Dragon Aspect: 1,2,4,5 + 4 = 16, dispelled with the roll of 1,1,2,2,3,5 + 2 = 16
Wildform on herself: 2,6,6, no dispel attempt --> Overwhelming power result: 4,5 = 9 --> 3 dice lost, no further effect

Outcasts, Turn 5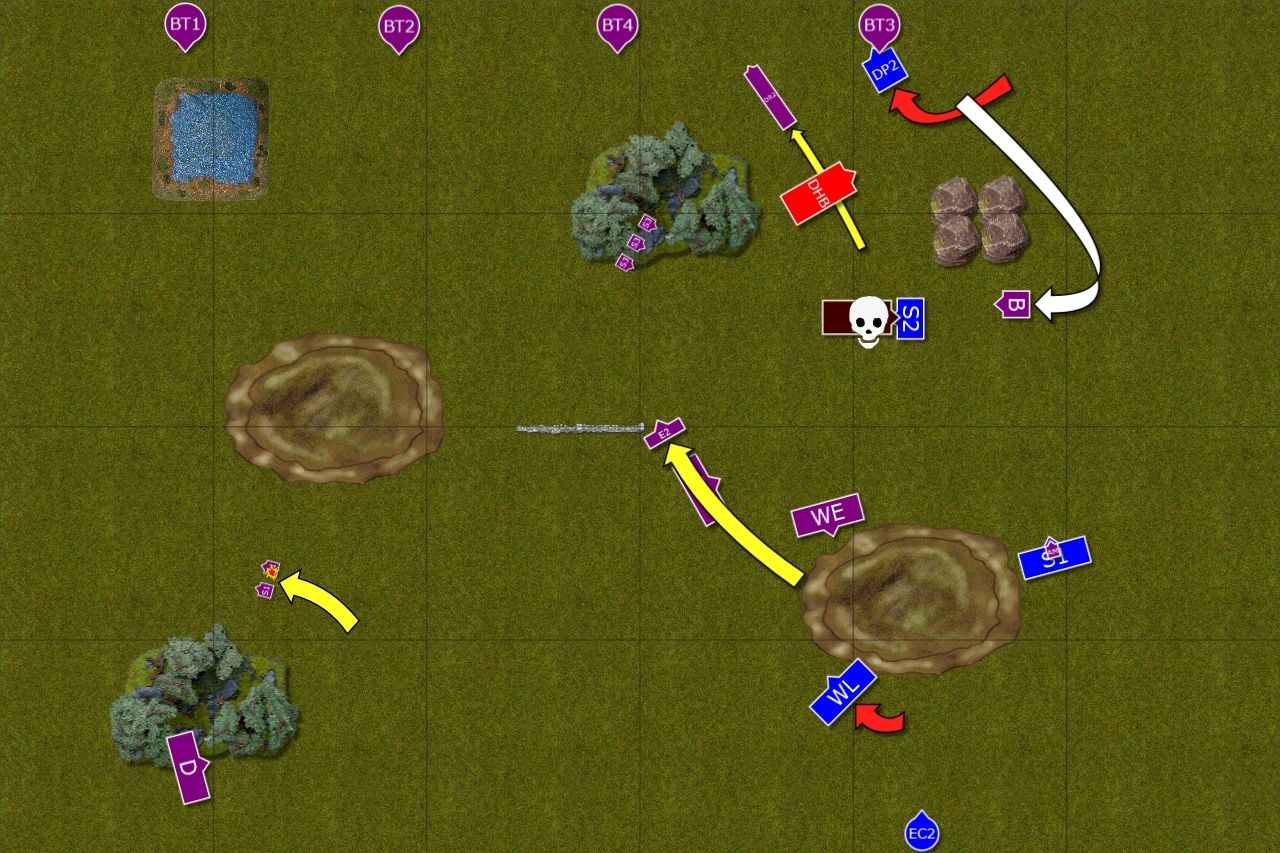 Dragon princes charged a bolt thrower, the BSB hid behidn the rock. White lions chased away the fleeing executioners and ensured they will not affect the battle anymore.

There was no shooting or magic to speak of but in combat, the sorceress was killed, according to expectations. Furthermore, the two remaining dragon princes failed to defeat the bolt thrower crew but they reformed so that the death hag could not see them by jumping on the other side of the RBT. This move is not legal in 9th Age anymore but we had no idea at the moment.



Magic Phase Details:



Winds of Magic: 1,5 --> 7:5 (one channel for HE)
Burning Gaze at Witch Elves: 1,1 + 2 = 4, failed to cast
2d6 Fireball: 2,3,6 = 11, dispelled on a roll of 1,1,5,6 + 4 = 17
Earthblood 1,2 = 3, failed to cast

Lost Colony, Turn 5




Executioners tried a long charge on the swordmasters (I think) – as the swordmasters were already reduced, they had a good chance to beat them up and overrun in the BSB, holding him in place and allowing my own death hag to challenge him to an epic duel. Or even killing him themselves with their S6 hatred attacks. They failed, though.

Witch Elves charged white lions. This was probably a mistake as there was a very high probability of the HE to flee to safety. Maybe I should have turned them to face the swordmasters for a turn 6 charge. Not sure. Anyway, the lions were really really slow and the girls caught them.

The picture suggests I also moved a RBT further from the dragon princes. I actually think I forgot to do so. In any case, it was a reasonable thing to do as now the dragon princes fulfilled expectations and destroyed the RBT, ready to charge further.

Shooting was not spectacular and there was no meaningful magic with both sorceress and warlocks dead.

Magic Phase Details:

Winds of Magic: 3,4 --> 7:5 (channel for HE)
Frenzy bound spell at Executioners: 3,4,4,5,6 = 22, dispelled on a roll of 2,4,4,5,6 + 2 = 23

Outcasts, Turn 6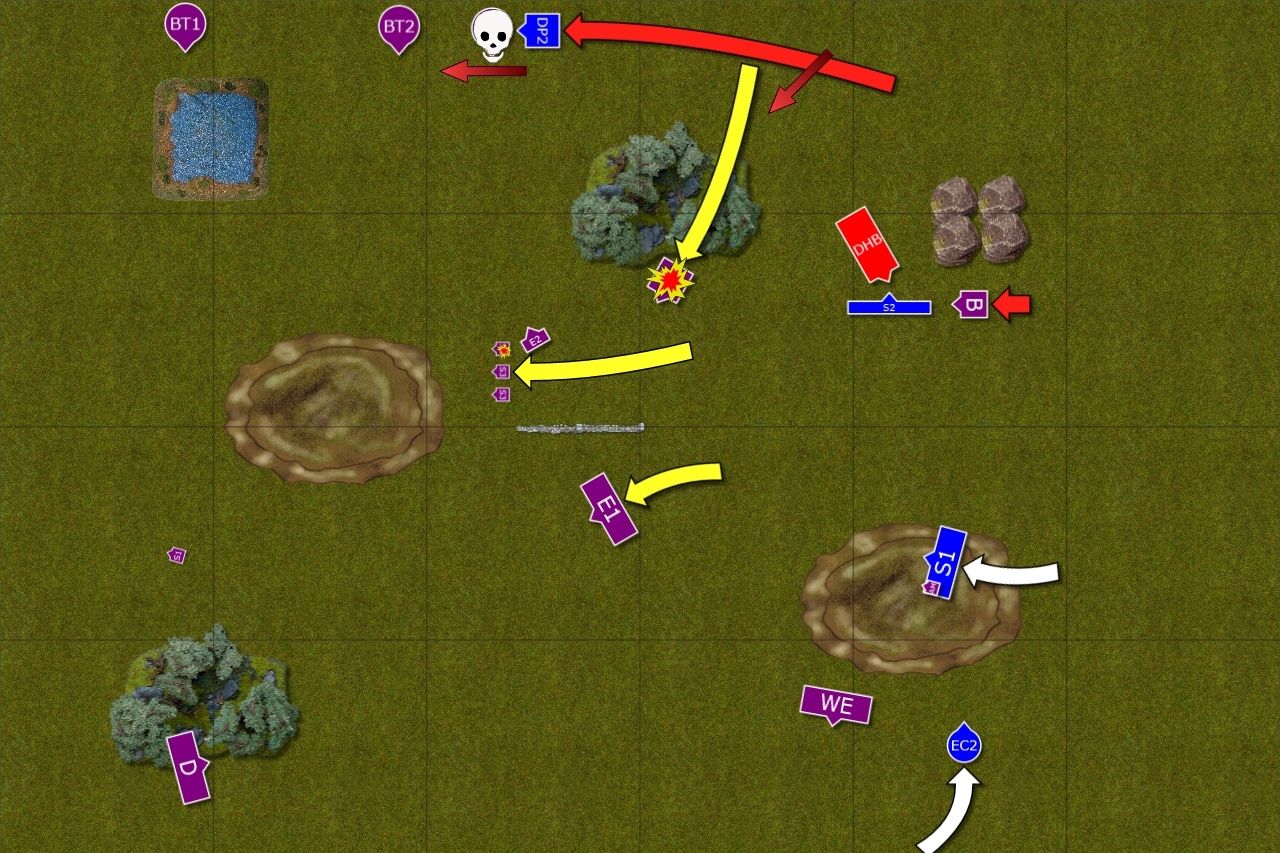 The dragon princes first charged my dark riders who fled and killed themselves in the forest; then they redirected in my RBT, destroyed it and overran in another.

HE bolt thrower evaded my witches. The gryphon riding BSB charged my shades and executioners who both fled. Swordmasters redirected the cauldron.

There was no shooting and magic failed... again.



Magic Phase Details:



Winds of Magic: 3,6 --> 9:6
Burning Gaze at Shades: 3,3,3 + 2 = 11, no dispel attempt --> d6 = 2, 1 wound
d6 Fireball 1,1 + 2 = 4, failed to cast
Searing Doom at Executioners: 5,5,6 + 2 = 18, no dispel attempt --> d6 = 2, no wounds

Lost Colony, Turn 6




The death hag destroyed the swordmasters with impact hits only. Two fleeing units rallied, two continued their run. Dragon princes destroyed the third bolt thrower.

The Outcast BSB was in prime position to get in single combat with the death hag on cauldron. She looked at him provocatively but he turned tail and left the field.

In the end, the point difference was something like 20 points in my favour so I am labelling it a glorious and triumphant victory!


After-battle thoughts

Well, given the predictions, especially the ones given on Ulthuan.net, I actually fared quite well.


The biggest mistake was of course allowing Swordmaster to hunt down my sorceress. Not much to say abot this, it was just a flank charge I did not see.

I also did not handle ideally stalling the eastern flank attack, as discussed earlier. On the other hand, it still took quite a while to breach through and Swordmaster only destroyed three bolt throwers and warlocks that way so it was probably not that bad.

I think my general plan worked quite well; not sure how much was it the result of deployment and strategy and how much of Swordmaster's miscast. In any case, I do not see what could have been done significantly better.

9th Age impressions

Well, this was not really the 9th Age, we have been using preliminary rules. Under 9th Age, some quite important changes have been made:

- no more ASF, elves have +1 to hit instead unless wielding a GW
- this also means that most of elves strike at initiative 5 but ahw gives +1 to ini and some (black guard, wardancers and such) have I6
- reworked magic as you have seen; irresistible force gives a big bonus to the roll but does not prevent dispelling; similarly,the impact of miscasts has been reduced somewhat when casting on a low number of dice
- you can deploy as many units as you wish in one go, whenever you like; after putting the last hero on the table, you say if you attempt to go first or second and then receive +1 for *each* unit your opponent has remaining, meaning that if you finish early enough, you will both know for sure who will go first
- units have been adjusted: black guard and harpies cheaper, warlocks for 25 points without magic or for 195 with the champion working as a lvl2
- and probably quite a few things I am not remembering right now

Give it a try, it is quite fun.