So, some more painting of dark elves has happened
I've done a master on a dark steed and a 5th unit of dark riders, including another 2 bases of slaves. I don't have pics of them (yet), but I do have WIP pics of my second unit of cold one knights, so thought I'd post up a few step by steps of them.
I've chosen to paint the riders and cold ones separately. Cold ones first.
First off I drybrushed the bases first, as this tends to be kinda messy.
I basecoated the cold one with a mix of GW knarlock green, Vallejo model colour (henceforth abbreviated to VMC) flat brown and VMC black, fairly heavily watered down.
Then I gave the whole cold one a heavy drybrush of pure GW knarlock green. This makes the model look very green, but don't worry, that'll be hidden in the mid tones by the time we're done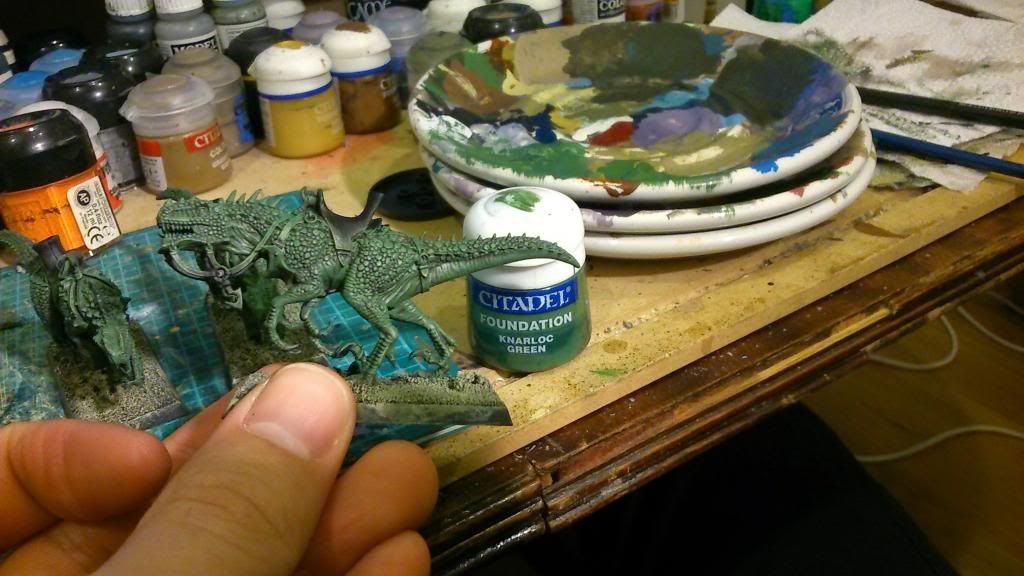 Next up was a drybrush of GW deathworld forest, again covering the whole model.
Final step for the skin was a comparatively light drybrush of GW desert yellow, this time just hitting the skin and (largely) avoiding the scales.
The scales were then overbrushed in GW baneblade brown
And finally a heavy drybrush of VMC Ivory on the scales. (pic to follow...)
Hope this has been useful or interesting to someone out there, and more will follow as the painting progresses (definately going to be finished in under 2 weeks, as I need them for a tourney!)