Following the thread about terrain,
D.R.A.I.C.H. Deploying the terrain by the rules.
here are the pictures of what can be done with recycled plastics, a cutter, some painting and imagination.
EDIT: With the coming of new terrains, I made another terrain thread:
Ideas for all the 8th ed terrains
Recyled plastics.
Before using the boxes, you need to eat the stuff that is sold inside.
Ice cream and paella in the examples below.
Plains.
You need nothing at all, of course.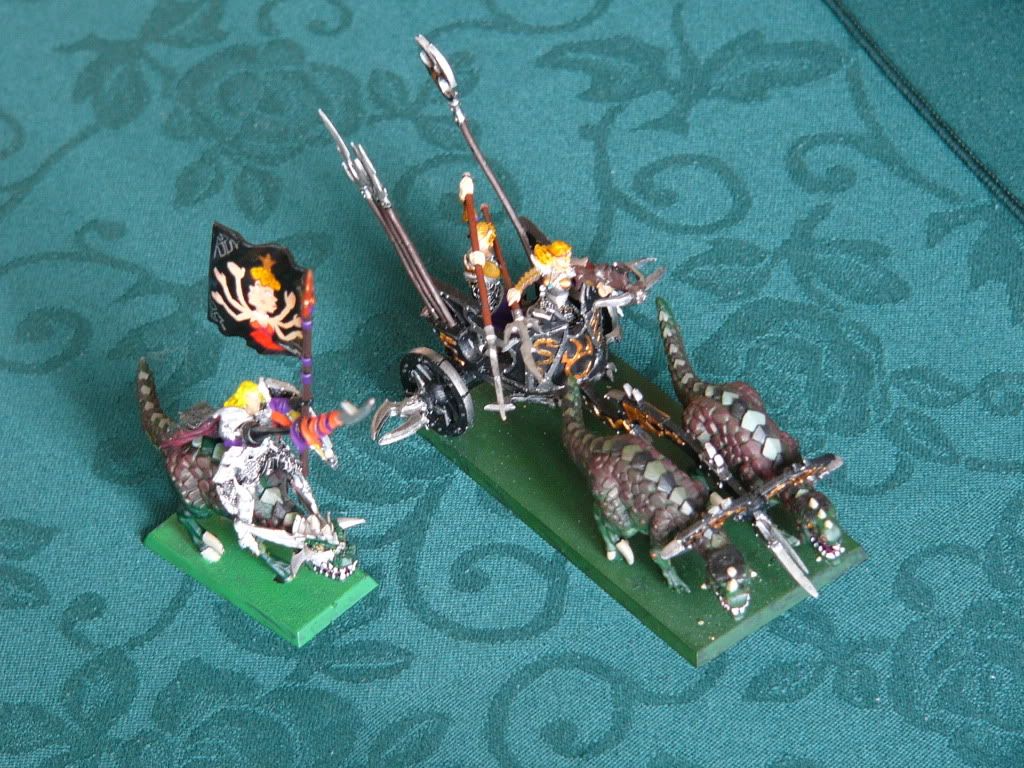 Hills.
In order to make easily a hill, all you need is a scrap piece of board. Cut the corners in an irregular, round shape in order to make them more natural.
Paint. Done.
You need not to have a gentle slope, that troops will climb progressively, because it's difficult to saw...
Instead, you can have vertical sides, as high as an infantry. In order to climb, this will count as crossing an obstacle (i.e. one rank climbs at a cost of half of the movement).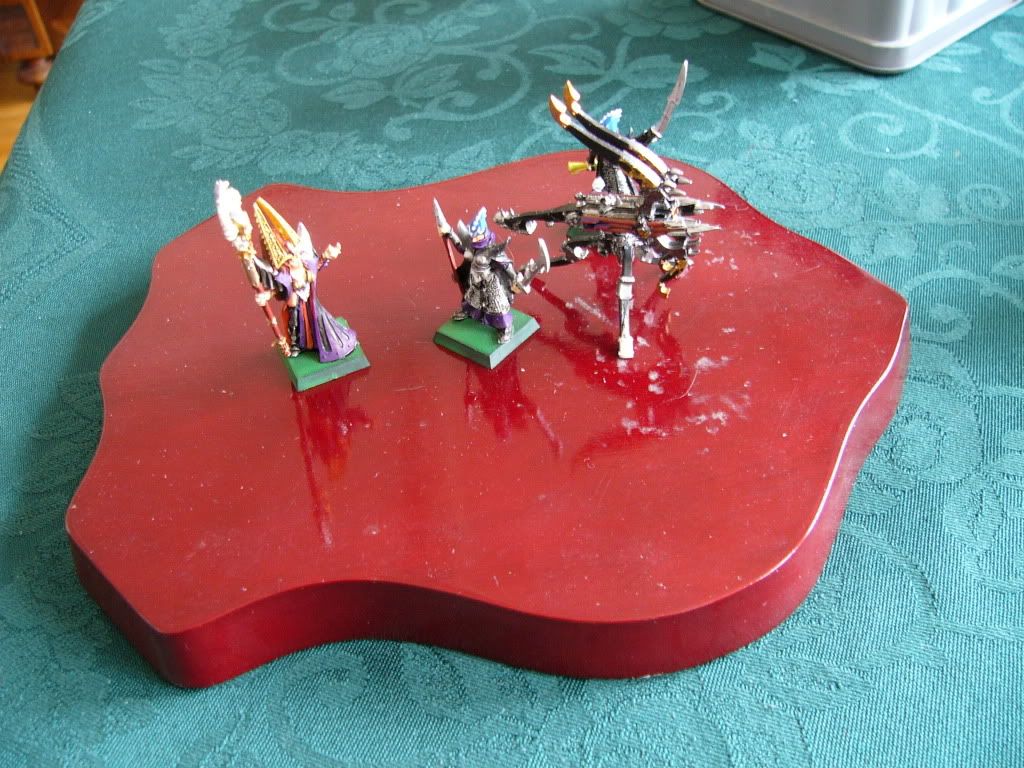 OK, I cheated, I used a ship's plaque instead of doing it myself.
Woods.
I've found that some ice cream 1 litre plastic boxes, with an oval shape, can be transformed into very convenient woods.
Cut a box in 2. You get two open C-shaped half boxes. Cut the top with robust scissors into the shape of tree tops. Paint in green.
Two such half-boxes make a small wood.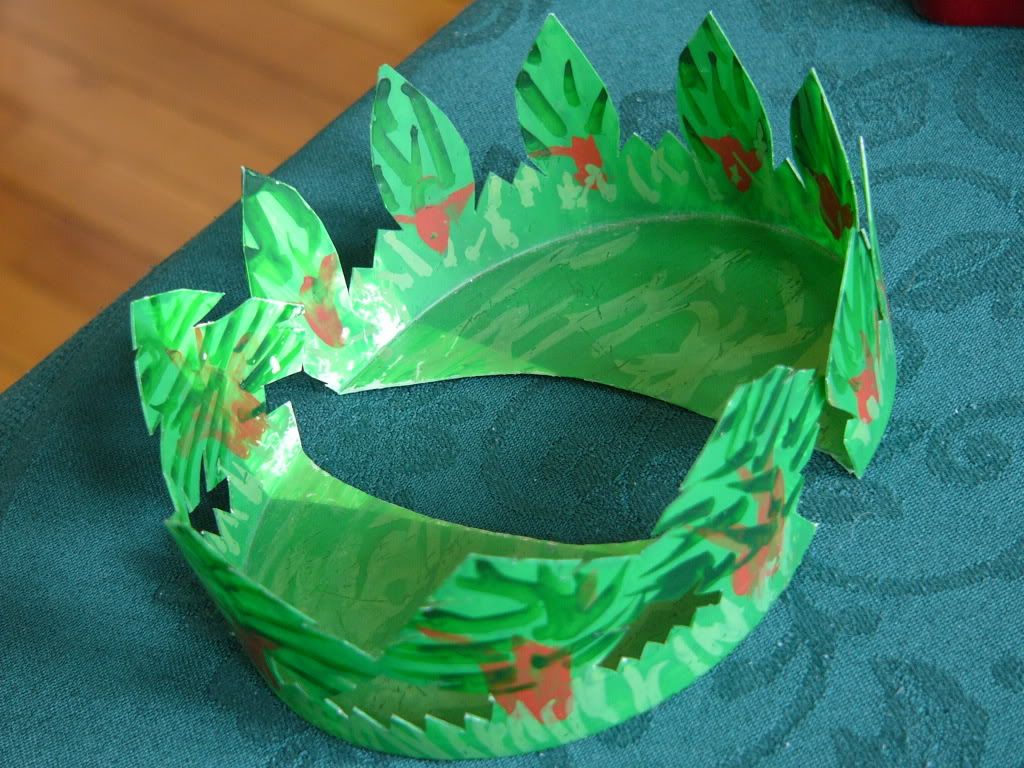 Four of them make a large wood, shamrock-shaped.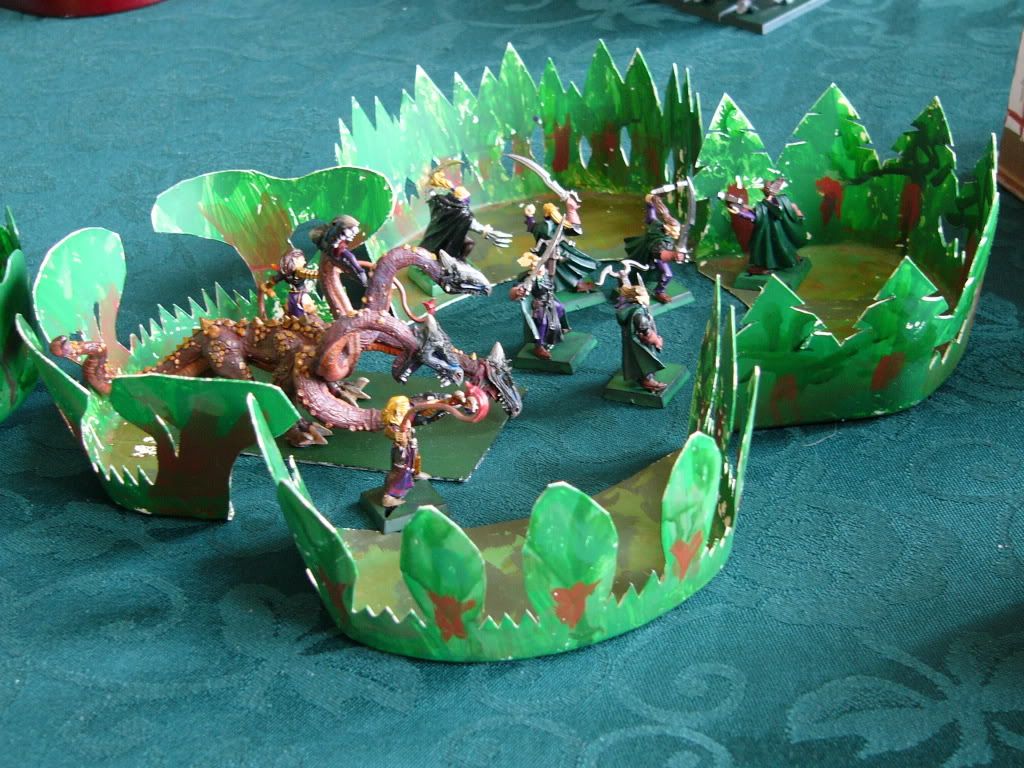 A good trick: when a large unit enters a wood partially, it's easy to turn the piece of wood upside down, in the same position, so that it encompasses now the part of the unit which has entered the wood.
Buildings.
A rectangular plastic box, turned over (the open face on the table) and painted like a medieval house.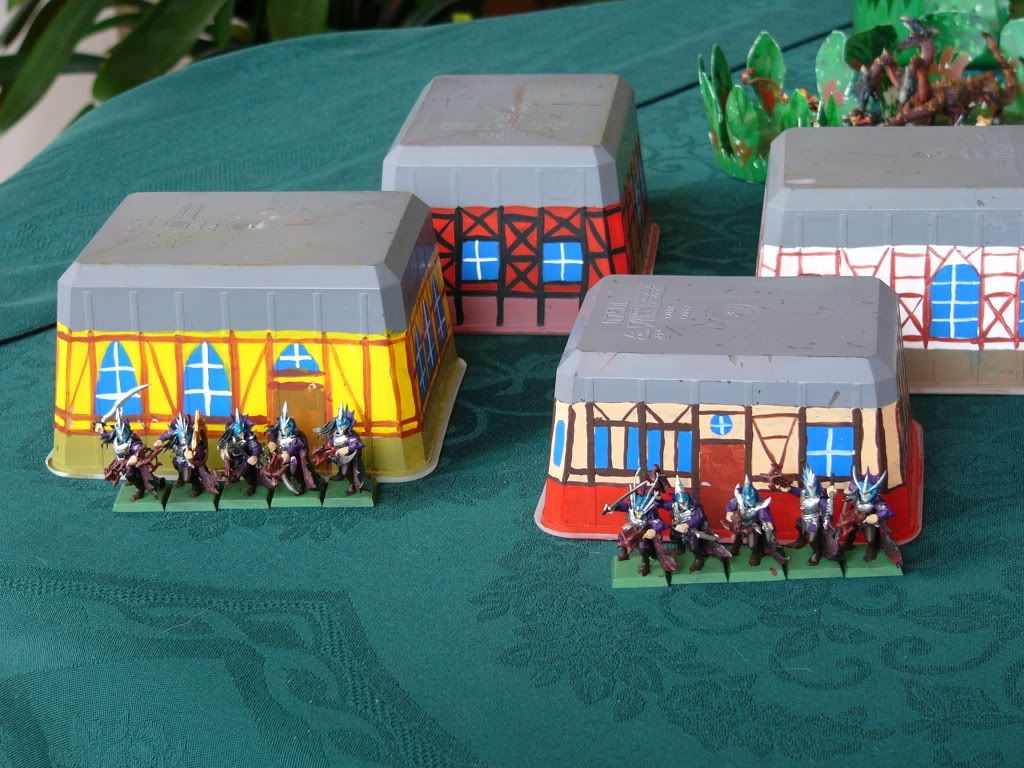 It can be used not only by the infantry but also by the Focus Familiar.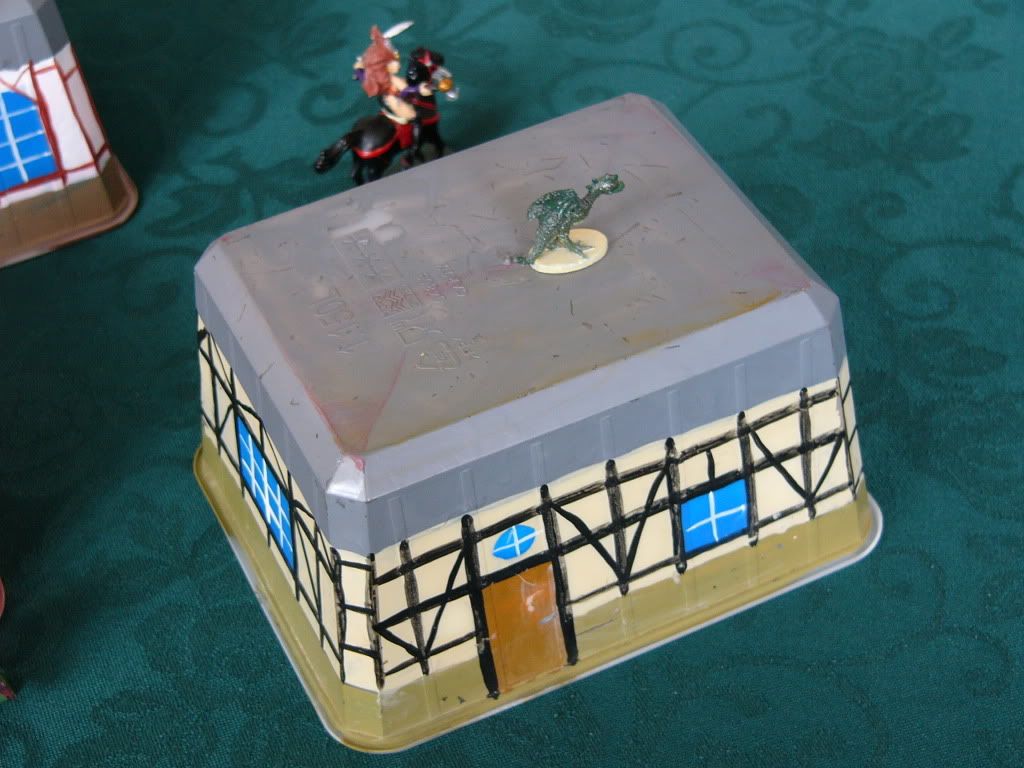 For high buildings, you need two or three of such boxes that can be piled up. The upper one is set upside down (the open face up) and its sides are cut off, leaving only a wall with an appropriate size for models to hide partially behind. It can make a nice tower or small castle.
Ruins
(rough terrain providing cover).
Same, but walls are partially destroyed and the ceiling is missing. The painting of savage herbs reflects the neglect state.
Obstacles.
When you make the top of a 2 storey castle, the remaining plastic can still make nice walls, or barricades. Cut and paint.
Nice to know, the thinness of the obstacle allows it to be set between two ranks of a unit crossing it.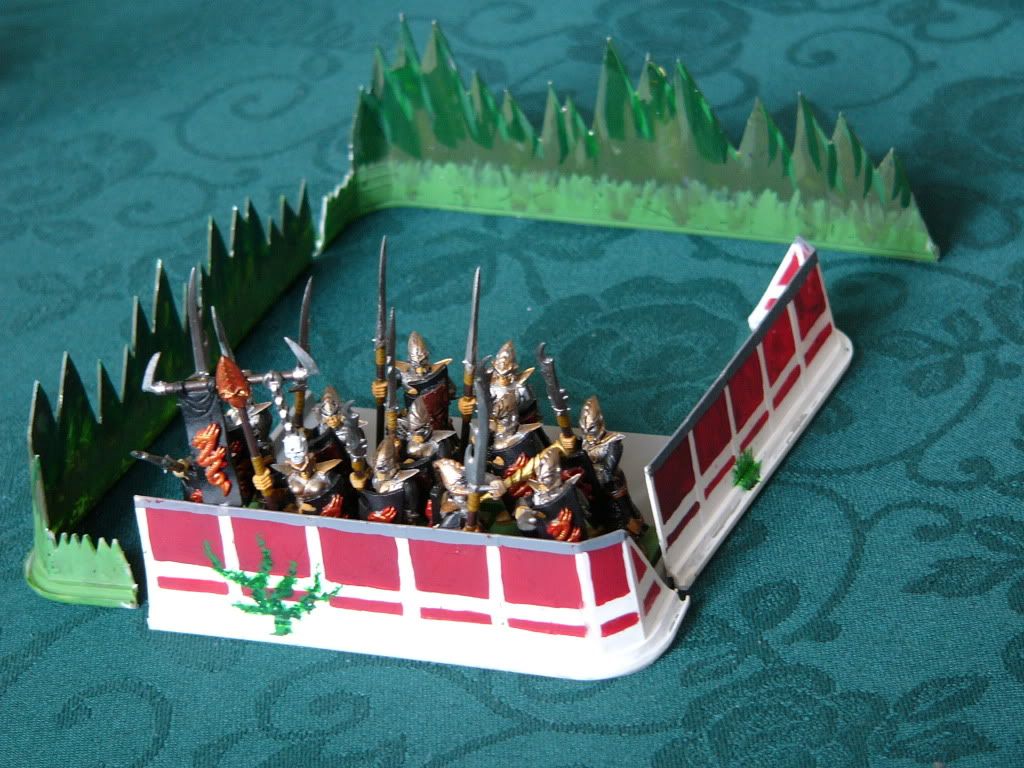 Pond of water
(rough terrain providing no cover).
Loosely cut flat piece of plastic, painted in blue.
Detail: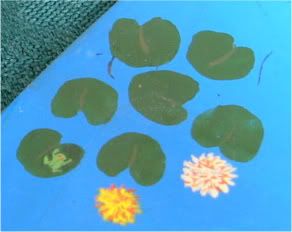 Monuments.
Any tiny decoration object can count as a statue. Think about the King from a chess game of big dimensions. Even an odd-shaped stone will do the job.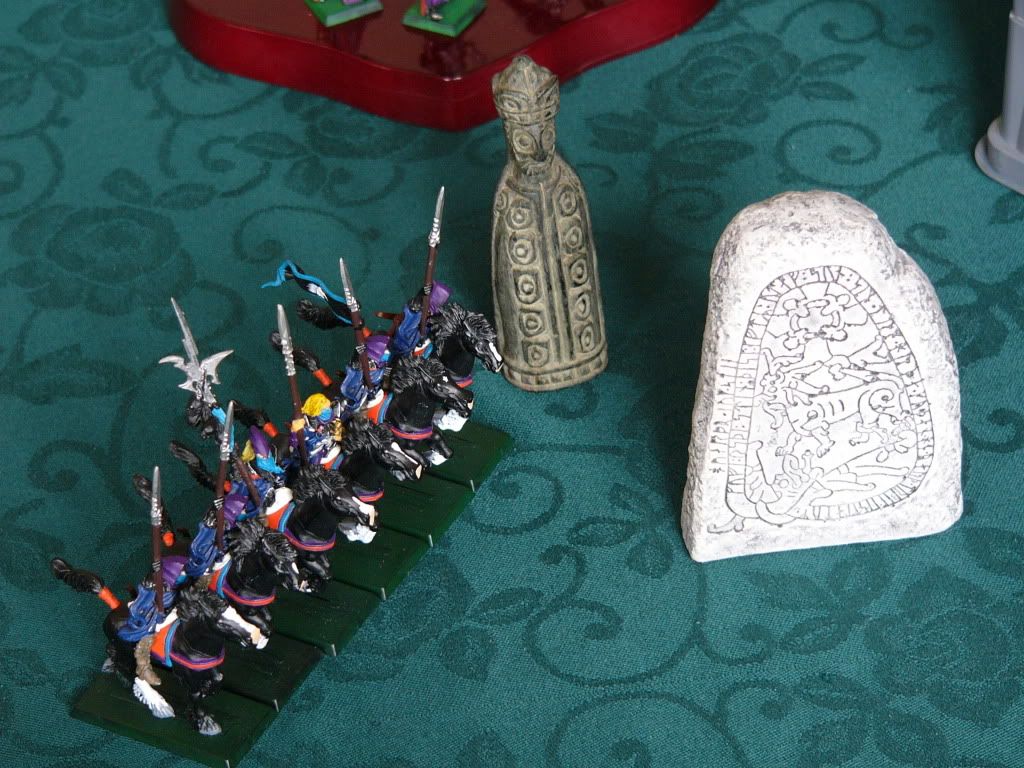 Packing your terrain for storage.
Terrain made out of boxes takes hardly any space.
Convenient if you live in a tiny flat, or if you need to transport the terrain to another gaming location.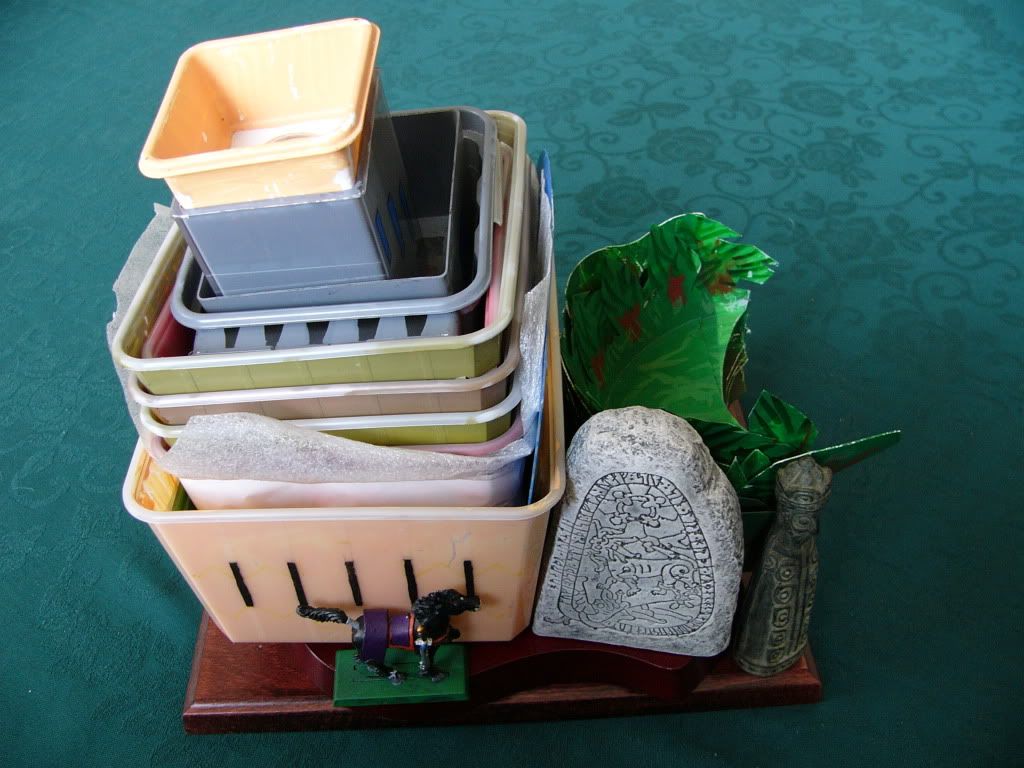 Here are packed together:
- 2 hills
- 2 large woods and a small one
- 5 small buildings
- 3 high buildings
- 1 ruin
- 20" of obstacles
- 1 pond of water
- 2 small monuments.
The horse is there to provide the scale.
Other suggestion.
phierlihy wrote:

Terrain is cheap enough to buy if you don't go for the GW stuff. Check out a pet store for the stuff they put in fish tanks for ready-made terrain.

If you want to make your own, do a quick search and you'll find a few threads on it. One GW product I do endorse is the "how to make terrain' book. Lots of easy ideas.
Conclusion
After viewing that, you'll never see your recycling can as before