| | | |
| --- | --- | --- |
| | | |
| | Calisson wrote: | |
| | | |
I had more thoughts about the fluff for the fist list I proposed.
Cauldron of Blood, the Corsair way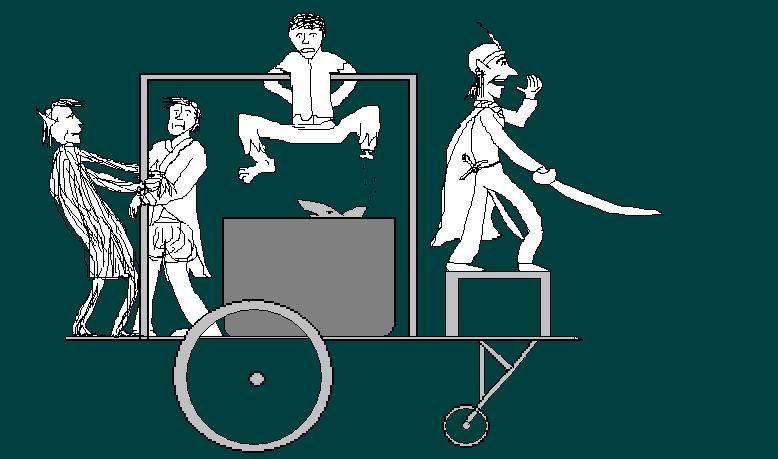 Fluff for the Brothers of the Coast army list
competitive list, few pure corsair units but the fluff can be made corsairish!
COB general
The Cap'n of the expedition. (see picture above)
He is not the kind of hero to rush mindlessly in the midst of a melee, he rather uses his brain and, to a greater extent, his loud voice!
His role is to lead by taking a higher look to the combats, and yelling orders to the units. Therefore, he never engage combat himself.
When attacked, his two bodyguards and himself are all three seasoned and ferocious fighters, each with two swords so salty and covered with coral toxins that they've become poisonous;
but as the Cap'n wants to avoid individual combats in order to be able to lead the whole battle, they don't bother to take armours, and wear somptuous clothes instead.
The Cap'n takes a higher look around by climbing on a wheeled mobile prison (counts as the CoB), pushed by the two bodyguards, which contains chained rich noblemen taken for ransom, and also a few horribly tortured slaves, one of them progressively eaten by a sharkling (or is it a squid?) in a barrel above which he is hang, in order to break the resistance spirit. There you've got a cauldron and some blood, which drops make the shark mad.
Horrified by the terrorizing sight of the tortured slave and the unknown beast below, the opponents are also reluctant to hurt their kin noblemen attached to the chariot, and their hesitation explains the 4+ ward save and the MR.
From his dominant position, the Cap'n yells his orders to any unit save the harpies which can't understand him.
The most commonly heard orders can be (+1A, KB or 5+WS):
- Ahoy! I'm watching you, mateys! Wake up and dash smartly more attacks NOW!
- Arrr! Show them lubbers how cutting yar cutlass get after months at sea!
- Avast! Mateys, protect yar barnacles like in the bilge rat!
One of the units (the execs) is so impressed by the Cap'n that they never would dare to leave a loosing fight when they are under his scrutiny.
Scroll caddy
The clerk.
He avoids the combats, he is there just to take notes on the booty and ransoms. He makes sure that the Cap'n will receive his golden share and nothing is missing. He has a huge bottle of ink and several scrolls.
A kind of sinister seagull is usually on his shoulder. Sometimes, the "parrot" takes off and drops on a distant foe some gluant cuttlefish dark ink (or even the whole bottle), causing disturbance and even wounds. However, the "parrot" is repelled by magic resistance.
"unkillable" BSB on steed
The First Matey.
He carries a gigantic flamboyant torch, along with his an impressive sword, and gallops around in order to set buildings on fire. His torch is so bright that the enemies (especially the strongest ones) often aim at the torch rather than at the holder, which explains his unbelieveable luck at escaping blows.
star/manbane assassin
The Cook.
Nobody would pay attention to a mere cook, untill he starts to throw cutlasses and cooking axes, coated with jellyfish's poison. And he obviously knows how to cut flesh with his knives!
5 DR, muso
Slave runners.
At the end of their poles, they have some hooks and ropes in order to help capture fleeing slaves
5 harpies
scavengers. Preferably with the crab claws, of course!
5 harpies
more scavengers.
15 AHW corsairs, FC, SSS
The banner reads: "Prepare to be boarded!"
10 RHB corsairs, muso
Looters.
15 BG, champ, RoH, standard, ASF
Old salt.
They are the most seasoned corsairs after having sailed the 7 seas. They've seen it all, nothing freightens them, often magic tricks don't impress them and fail.
They are so used to massacres that they care not about losses, be it their own or a nearby unit.
However, they don't run fast anymore and are not so good to capture fleeing enemies.
Darn good fighters with their huge boarding axe. However, their Sea Dragon Cloak is so teared off that it has lost its effect and does not protect much against distant attacks.
15 Execs, FC, warbanner
Rookie young Mates.
They did nor earn yet their Sea Dragon Cloak.
They are still very impressed by the presence of the Cap'n, to the point to accept losses that otherwise would break them off if the Cap'n was far enough.
However, they refuse to feel the presence of the First Mate nor the Clerk, who could observe them too closely. They don't mind the Cook.
As they are beginners, they have a wrong tendency to kill their foes by mistake rather than to capture them intact as a good slaver should.
5 shades with GW
Scouts, the beaters of the hunting battue
5 shades
More beaters
Hydra
Kind of giant squid. See the drawing on bottom of page 93 of our army book, but slimmer.
EDIT: from
Lokhir Fellheart Themed Army -- Opinions and Suggestions
The beast moves on 2 of its tentacles, not unlike a snake.
The forward tentacles are used to grab difficult terrain (trees) and drag forwards, so there is no restriction to movement in difficult terrain. It does not work for charges, because the tentacles are then used for fighting.
It uses 6 tentacles for its attacks, plus the beak.
The breath attack is a poisonous sticky ink cloud.
The two
handlers
are covered with seagrass and alguaes, otherwise they would be eaten.
2 RBT
When not chasing Moby Dick, they gladly join the raiding party.
Thanks for the accelerated talking course from
Talk Like a Pirate Day Sept 19th!!
Customization.
A lot of work is required for the "Cap'n" and for the "hydra".
Some work is required for the "clerk", the "cook", the "1st Mate".
Mere adjustments should suffice for DR, BG, execs, GW shades, handlers.
Models as they are look good enough for shades, corsairs, handbow corsairs, harpies, RBTs.
Of course, you should make a heavy use of the octopus accessories sold with corsairs!
Unfortunately, for me, the modelling talent required is out of reach.
If ever someones achieves that, plese send pictures!