RBT = Reaper Bolt Thrower
RXB = Repeater Crossbowmen
AS = Armour Save
OK, so i have always lived by the rule of thumb that "when using the RBT its better to use the 6 shot versus anything except when you can hit cavalry in the flank". And i have also used the rule that "RXB will do more damage (point for point) than RBT assuming you are within 24 inches".
I have now done the ridiculous amounts of calculations needed, not only to check these "rules", but also to check when its best to use single shot with the RBT, including rank piercing.
I did NOT calculate for the following:
#Rank piercing for multi wounded creatures (since its incredibly unlikely to happen)
#Ward saves
for rank piercing
(a unit with ward save or regen save will be MUCH more resistant to rank piercing. If a unit has ward/regen, dont try to pierce its ranks. wards will not affect any other part of the calculations though, dont worry)
I will not print out the exact numbers, to spare my already tired fingers, but i will give you an idea of when to use what type of shot. If you dare trust my maths (i have a MSc degree) you can use these facts for great benefit. If you dont trust me, you can redo the calculations yourself
I am assuming 1 RBT compared to 10 RXB. I am assuming you are at between 12 and 24 inches. The RBX will hence have an edge at closer range, and the RBT will have the edge at longer range, but most shots in the game are fired at this distance.
The results are shown in the table below: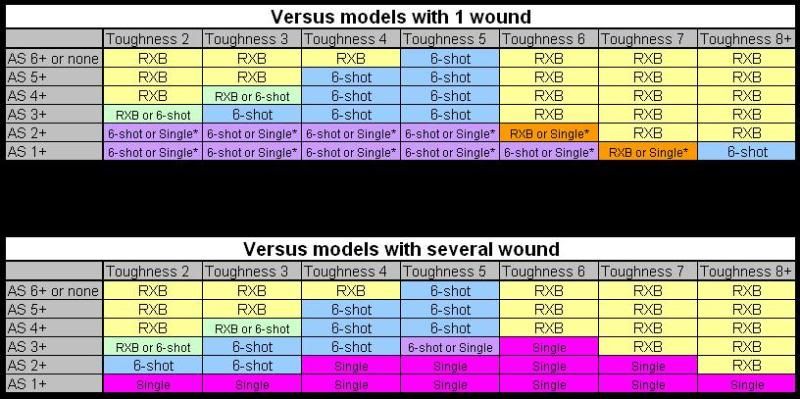 * = Use single shot only if the target has at least 3 ranks to penetrate.
So, i hope this will help some of you to make the choice between RBT and RXB, and perhaps more importantly, choose between 1 and 6 shots with the RBT.
ps. If some one thinks this is Draich-worthy, feel free to link it in there